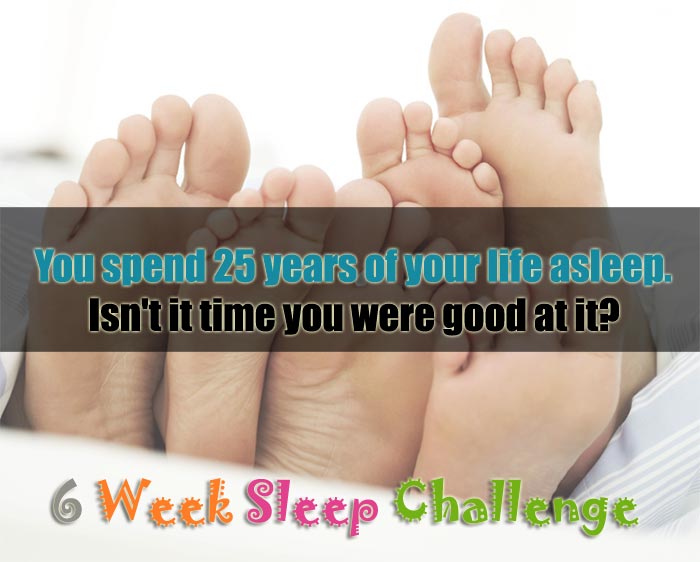 Affiliate Disclosure: Some of the links below are affiliate links, meaning, at no additional cost to you, I will earn a commission if you click through and make a purchase.
At some point in time we all realize that lack of quality sleep is affecting our ability to be productive. It challenges relationships, I notice right away my patience with my kids and my spouse drops significantly when the quantity and quality of sleep is low.
And although it doesn't feel like trying to gain more time by not sleeping, actually takes time away from us.
If we need to spend on average 25 years sleeping to live a happier, healthier life, then we should learn to be pretty good at it.
As a mother of 3 and with the idea firmly ingrained that pulling all-nighters is a good way to catch up and get stuff done, my sleep is very challenged.
I got my first email from the challenge, today. I would say it's pretty basic, nothing that you probably don't already know. I'm never looking for some earth shattering information that will create spontaneous change, in any challenge, although that would be awesome, but what I'm looking for in a challenge is motivation.
The sign up page says you could win an A.H. Beard bed valued at $4,000 and they will also be giving away an A.H. Beard pillow, valued at $150, each week to one lucky participant who has completed the week's challenge.
That might motivate me, but I haven't read the fine print yet. The website is a .com.au, so depending on your country you might not be able to win anything, which for me would kill any extra motivation.
But it can't hurt to try, so if you need help with your improving your sleep sign up or get more information at http://www.ahbeard.com.au/sleepchallenge. These are not affiliate links.
[button_1 text="Get%20Started%20Now" text_size="28″ text_color="#ffffff" text_font="Montserrat;google" text_bold="Y" text_letter_spacing="0″ subtext_panel="Y" subtext="Join%20the%20Sleep%20Challenge" subtext_size="14″ subtext_color="#bbff99″ subtext_letter_spacing="0″ text_shadow_panel="Y" text_shadow_vertical="1″ text_shadow_horizontal="0″ text_shadow_color="#080808″ text_shadow_blur="0″ styling_width="63″ styling_height="38″ styling_border_color="#000000″ styling_border_size="1″ styling_border_radius="50″ styling_border_opacity="100″ styling_gradient_start_color="#40bf00″ styling_gradient_end_color="#006600″ drop_shadow_panel="Y" drop_shadow_vertical="1″ drop_shadow_horizontal="0″ drop_shadow_blur="1″ drop_shadow_spread="0″ drop_shadow_color="#000000″ drop_shadow_opacity="50″ inset_shadow_panel="Y" inset_shadow_vertical="1″ inset_shadow_horizontal="0″ inset_shadow_blur="0″ inset_shadow_spread="0″ inset_shadow_color="#ffffff" inset_shadow_opacity="75″ align="center" href="http://www.ahbeard.com.au/sleepchallenge" new_window="Y"/]