Disclosure: Some of the links below are affiliate links, meaning, at no additional cost to you, I will earn a commission if you click through and make a purchase. As an Amazon Associate I also earn from qualifying purchases.
Madbarz offers an amazing workout app with lots of free workouts that are all bodyweight no equipment needed. Climb the apps rankings chart for your age, gender and country. With each workout you do, you will get points based on time and difficulty for added motivation.
I've always enjoyed watching calisthenic workout videos on YouTube.
The idea of having enough strength to handle your own body weight just seems hot, sexy and empowering. I'm drawn to it, as if instinctively I know calisthenics is the right path to fitness.
It's certainly not the only path, but to me it feels like it is the truest path, to our human nature and body.
It's the same feeling I get when I see an athletic body. I feel it's sexy and attractive, not because the media has portrayed that is how we should look, but because deep down I feel that would be our natural form if it weren't for all our processed food and conveniences.
In watching these amazing feats of strength, I always felt baffled and over whelmed at how I could ever get from here, 5 push ups, and zero pull ups, to being a Bar Brother.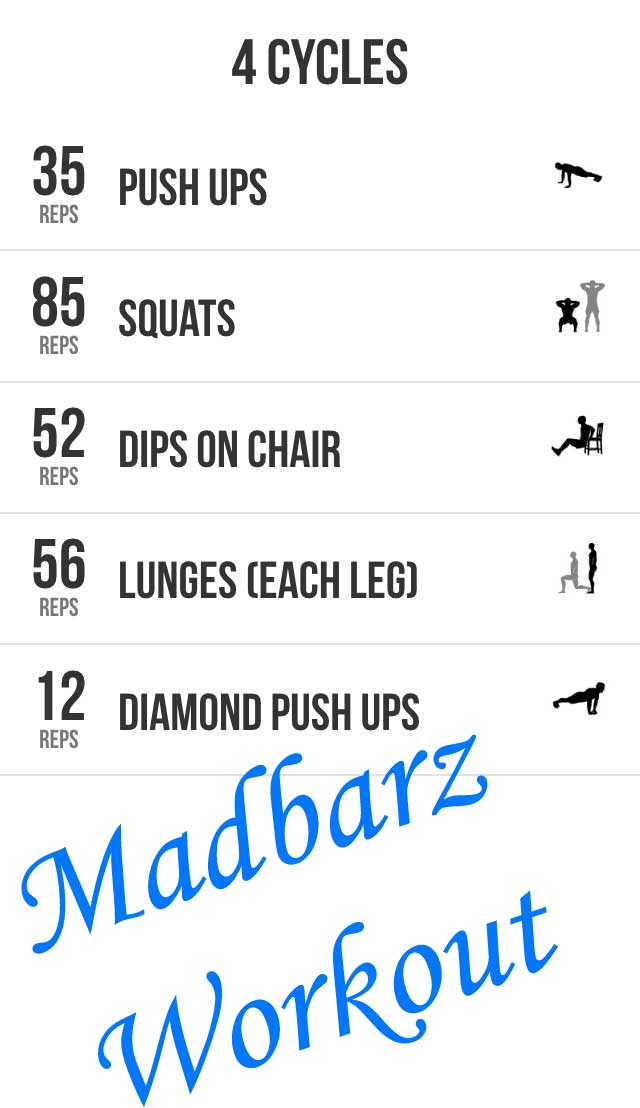 I've read the posts that say focus on the main moves, chin ups, pull ups, pushups, dips and squats…..logically that makes sense, but still I don't see myself going from here to there.
MadBarz Workouts
The Madbarz website used to have a number of pictorial workouts, which gave me some guidance, but still never moved me to consistent action. Then one day I went back to the Madbarz site and it said, "Join Now". They had shut down their old site and put up a new one as well as an app! I tried to sign up, but received a message saying there was a waiting list.
Download Jillian Michaels 30 Day Shred Levels 1, 2, 3
They are currently in beta and have only let a few people in to test, as they develop the app and the website. After months of waiting, I finally went to their Facebook page and said WTF!!! I want in. They quickly replied and said to message them. I got a Madbarz invite code for myself and a friend. I didn't know what to expect, but I knew it was going to be something awesome!
Update: You don't need to wait any longer. You don't need a code.
And it is, and it's only getting better.
Workout apps can be awesome because the good ones, once you hit go, start timing you. Nothing can move you into action faster than the ticking of a stopwatch. Once you are in the Madbarz app, you pick your workout, you have the option, thankfully to filter workouts by beginner, among other choices.
You can see through images, exactly which muscles you'll be working in the workout. The app starts you out with the starting number of reps for each exercise and as you go through the workout you let the app know how many reps you were actually able to do. The goal to do as much as you can. At the end of the workout you get your results.
How many reps you did, if you improved since the last time you did the same workout. Then, my favorite part, you can log on their website and see where you rank based on everyone else who has done the same workout.
I can't even explain how motivating this is. If I could do a workout every day I would, just because I want to move up in the rankings. To see that if I only did one more push up, I could move up another spot, is exactly the competitive motivation that works for me. But sadly my muscles need rest to get stronger. 🙂
If you really need this now and you think this is the motivation that will push you to start moving. Download the app today.
I can't say it will the perfection motivation for you, but 100% it's worth a try. I'm in and I love it!!!!
Thank you Madbarz, you guys rock.
A couple in app, screen shots of my workouts:

Share on Pinterest…