Studies show elderberry is great reducing duration of the flu, but what if it actually increases complications of COVID-19. Read this before using that syrup you bought and decide for yourself if it's worth the risk.
Affiliate Disclosure: Some of the links below are affiliate links, meaning, at no additional cost to you, I will earn a commission if you click through and make a purchase.
When the spread of this pandemic was just starting to hit the US and Canada, I heard about Elderberry from a friend. I was skeptical. But after a few Google clicks, the studies show it's true.
Elderberry can shorten the flu, Influenza A and B by 3-4 days. People recover twice as fast!
Randomized study of the efficacy and safety of oral elderberry extract in the treatment of influenza A and B virus infections. ncbi.nlm.nih.gov/pubmed/
Sixty patients is a little low, but this was a randomized, double-blind, placebo-controlled study.
Patients taking elderberry symptoms were relieved on average 4 days earlier compared with placebo. That's good enough for me to say we need to stock up. Especially at this time.

If this is good for that Influenza A and B, then surely this would help even a bit with the new cornavirus. Right?
Nope. I would no longer recommend it. I need to remember to text my mom.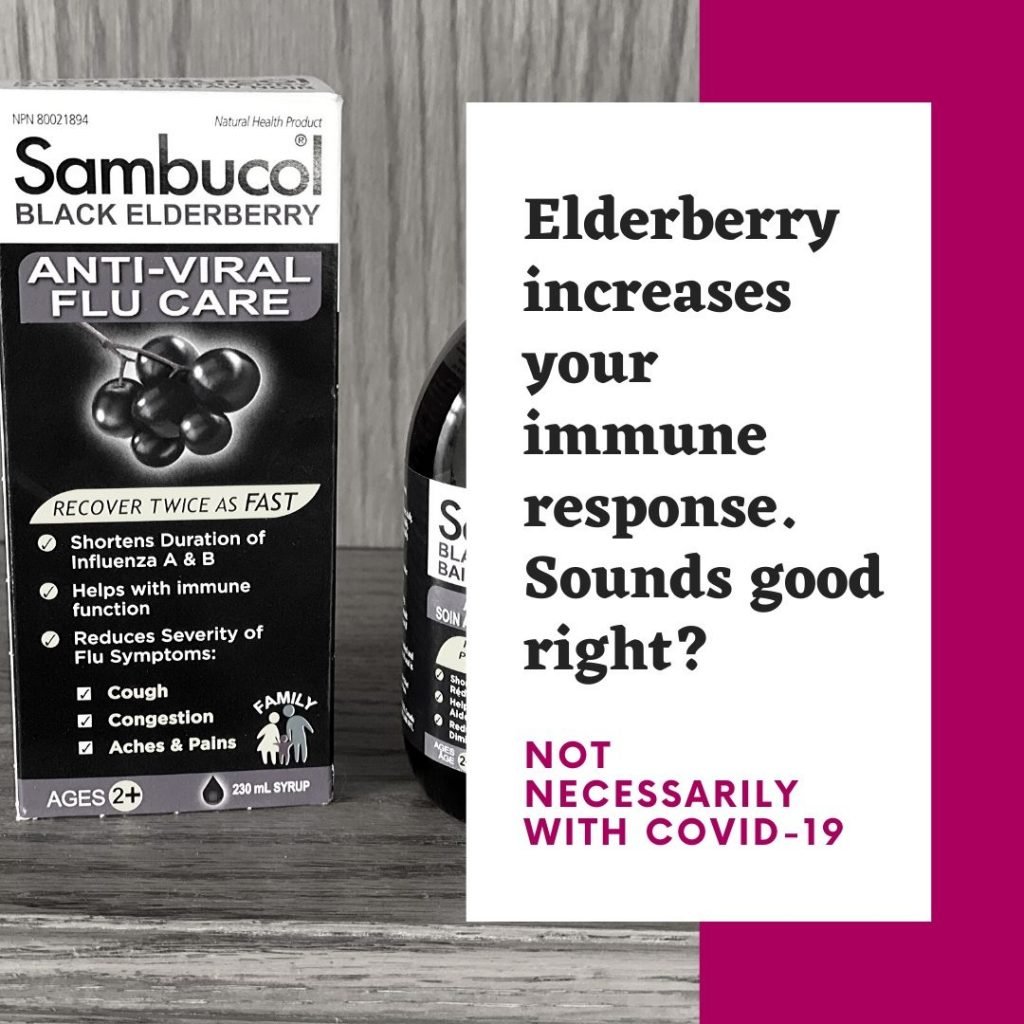 It's a reminder of how little we know about this virus. Things that we normally wouldn't even question as treatment for symptoms such as fever could be producing devastating results. The jury is still out on Ibuprofen.
"Research has shown that the virus attaches itself to cells in the lungs by way of an enzyme — angiotensin-converting enzyme 2 (ACE2). The Lancet commentary suggested that taking ibuprofen might increase the number of ACE2 receptors on a cell, which could make someone taking the drug more vulnerable to infection. " thelancet.com/journals/

But the European Medicines Agency issued a statement Wednesday saying that while it is monitoring the situation, there's "currently no scientific evidence establishing a link between ibuprofen and worsening of COVID‑19."

Since we don't 100% know, acetaminophen is the safer alternative right now. Why risk it, right?
Ok, back to Elderberry.
I had already contacted my daughters doctors (she has congenital heart disease) to ask them what they think about her taking the Elderberry syrup if she were to become sick. They said they had no concerns. It might affect her blood clotting ability slightly, but that was something they said we could easily monitor and adjust meds for.
After all this back and forth on whether Ibuprofen is or isn't going to make the covid-19 worse, I had this nagging feeling that I need to look more into this syrup I had bought.
First thing is why are people dying from this new coronavirus.
"The cause of death of this virus is, No. 1, respiratory failure, and then No. 2, probably the cytokine storm." www.vox.com

Critically important studies emerging from China suggest that for many patients who die of Covid-19, it may be their own immune system, rather than the virus itself, that deals the fatal blow. This is called a cytokine storm. China Treatment Cytokine Storm Syndrome | Clinical predictors of mortality due to COVID-19
So, how does Elderberry help people recover faster from the flu, and what are it's effects on cytokines?

The effect of Sambucol, a black elderberry-based, natural product, on the production of human cytokines: I. Inflammatory cytokines.
Production of inflammatory cytokines was significantly increased. We conclude from this study that, in addition to its antiviral properties, Sambucol Elderberry Extract and its formulations activate the healthy immune system by increasing inflammatory cytokine production. www.ncbi.nlm.nih.gov/pubmed/
The way in which elderberry cuts the duration of influenza in half is by increasing activation of your immune system.
That seems to work well for many in the cause of the flu. But covid-19 is not the flu. It would appear that peoples immune systems are already overacting enough. Doctors are actually needing to suppress the immune system.
So keep your black elderberry syrup, it's great for the flu. But right now, it's not worth the risk for covid-19.