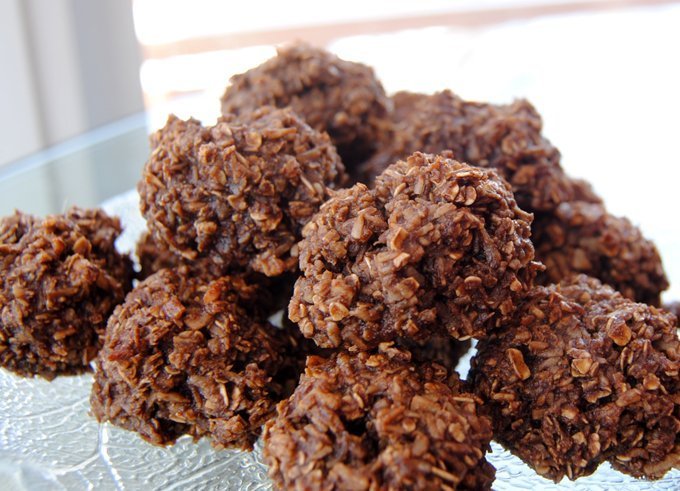 Affiliate Disclosure: Some of the links below are affiliate links, meaning, at no additional cost to you, I will earn a commission if you click through and make a purchase.
Pretty much every day I hear "mommy can we make chocolate balls." It wouldn't be so bad if I had a little more self control and didn't eat them all in one day. But this recipe for paleo chocolate coconut macaroons is delicious.
It's a great recipe for baking with kids, there is lots for them dump in, to mix and to squish into balls.
With all the junk food out there that kids love. I enjoy making them a treat that is still real food, without the refined sugar. So much healthier then their second favorite treat, ice cream.
Traditional French macaroons are not easy to make and look super time consuming. Can you tell I've never made them? I started feeling overwhelmed when recipe calls for to many ingredients and steps.
Even this super easy and delicious recipe which has only 5 ingredients and 5 steps, 2 of which are pre-heating the oven and the last one baking for 15 minutes, requires no real effort on my part but sometimes I still feel like it's to much work.
That is how lazy I am when it comes to baking.
But this one is worth it. One, because it's a great recipe for the kids to help out with and something we can do together. Two, these paleo chocolate coconut macaroons are great for all your chocolate cravings.
First you want to take your 3 egg whites and whip them till their nice and fluffy with a blender or food processor.
My daughter loves this part. I'm not going to lie. It gets a little messy. I try to refrain from grabbing the handheld blender and saying, let me do it, as egg whites are spitting out of the bowl.
Instead I tip the bowl a bit and try to guide her hand.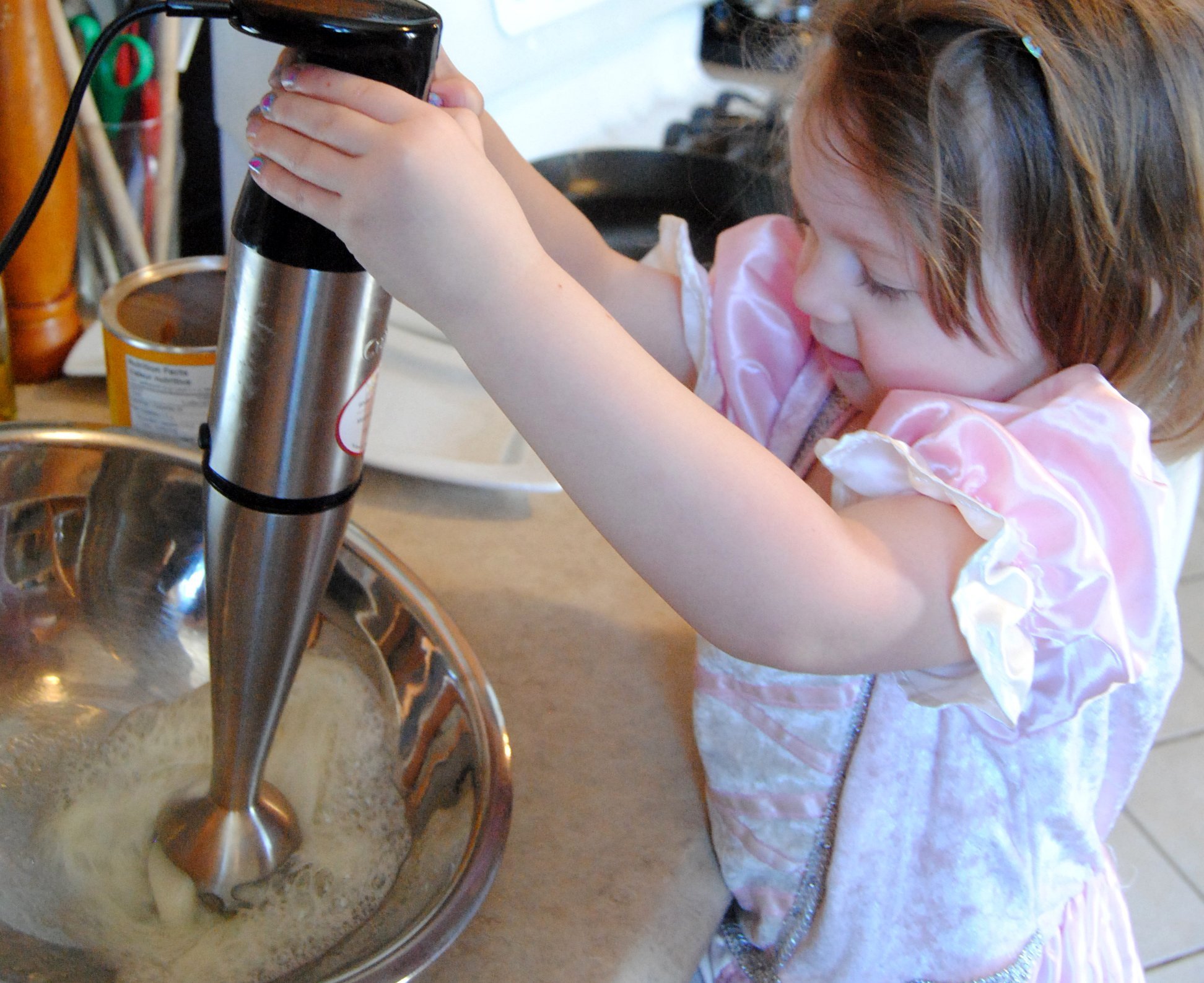 Mix in the honey, cocoa powder, coconut flakes and almond flour.
Almond flour is one of the reasons I used to procrastinate on making this recipe even though I would have loved the end result.
Almond flour is expensive and for the longest time wasn't' available at the local grocery store.
But now I get whole almonds at Costco for a great price. I can take the whole almonds and blend them into flour which works perfect for this recipe. If I have any left-over flour, I just keep it in the freezer.
I measure everything out. Then the kids dump or pour in each ingredient and of course they must stir.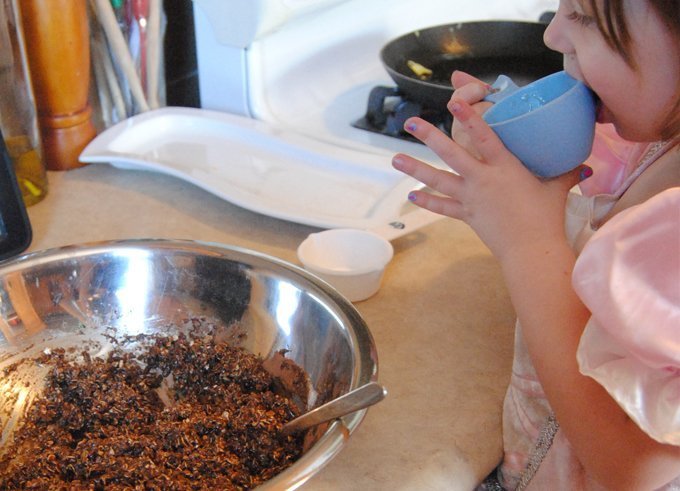 Note: You can buy large or small coconut flakes. Smaller coconut flakes will make better ball shaped macaroon balls. Larger coconut flakes will make flatter macaroons.
Also note: if your partner accidentally buys sweetened coconut flakes instead of unsweetened coconut flakes, it's OK. I just lowered the amount of honey I used.
As for the honey, there are so many amazing ones to try. But the generic grocery store honey works fine to.
For some extra crunch, add chopped pecans or walnuts, or add about 1/2 cup of raisins for some chewy texture.
Next your spoon out 1 tbls of mixture per macaroon, on to a tray lined with parchment paper.
You'd think this would be the exciting fun part for the kids, but this is were they tend to take off and leave the messy part to me.
They love making slime and getting their hands messy there, but apparently, it's yucky getting your hands messy with coca and honey. I'm not sure I get it.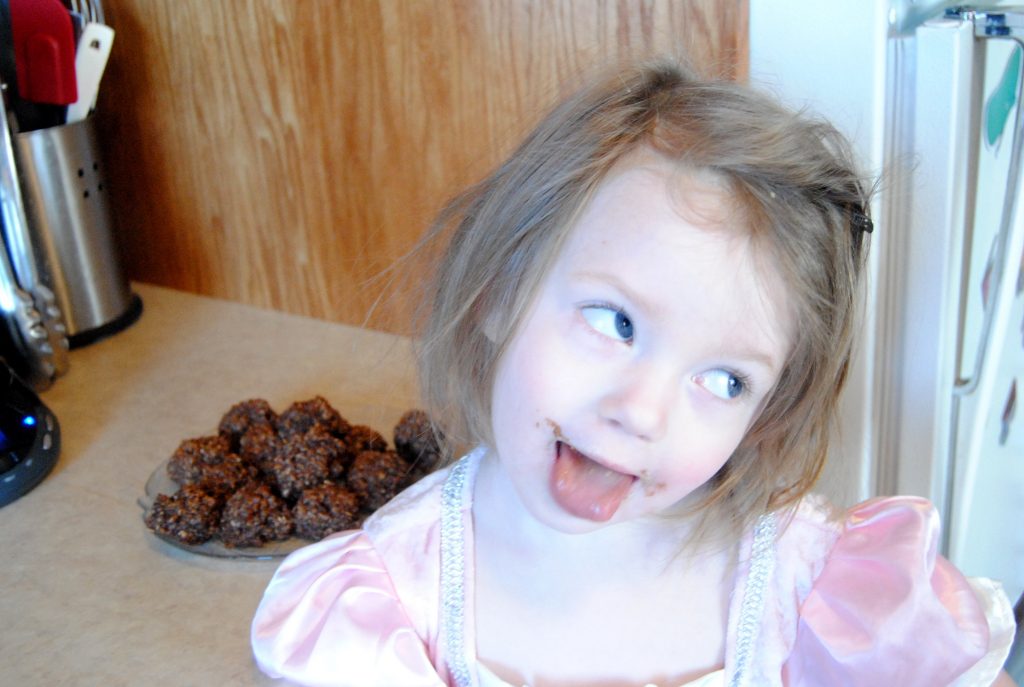 Depending on how I'm feeling mentally, I might make a double batch.
I put them all in the freezer but that doesn't seem to stop me from eating them all in a day or two. So, if my willpower is low, I stick with one batch at a time.
Then you put the one to two trays in the oven for 15 minutes.
Some people put them in the freezer afterwards to cool down. I'm not sure why. They taste amazing nice and warm right out of the oven.
I mean give them 5-10 minutes to cool down, but then you can pass them out for a great little snack and treat.
I wouldn't go so far to say these are "healthy macaroons", in that it would be healthy to eat as many as you want. Yes, they are grain-free, dairy-free, and refined-sugar-free, but they still have sugar from honey.
But I've also finished off an entire box of Girl Guide cookies by myself, I would much rather finish off all of these paleo chocolate coconut macaroons and I'd much rather my kids have two or three macaroons then store bought cookies.
If you do prefer them cold, place them in the freezer for about 20 minutes or until they are firm.
Then you can store them in an air-tight container in the fridge or in the freezer. I can't tell you how long they last in the fridge because they have never lasted long enough to find out.
I hope you love them as much as we do.
Paleo Chocolate Coconut Macaroons
Serves: 21 Macaroons
Serving size: 1 macaroon
Calories: 84
Fat: 6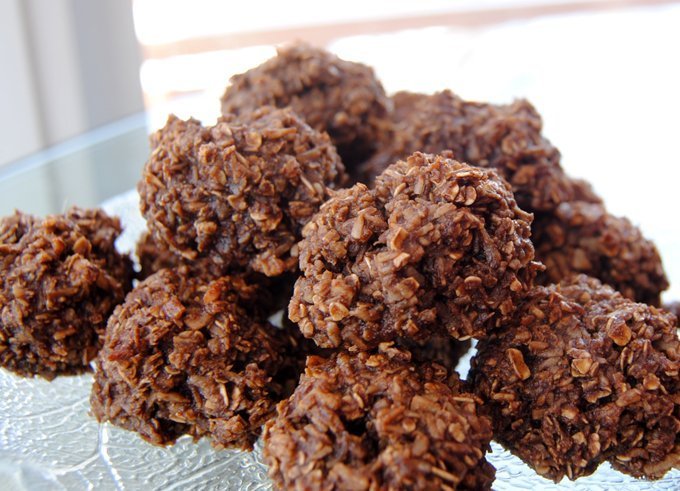 Ingredients
3 egg whites
⅓ cup honey
3 tbs cocoa powder
1½ cups unsweetened shredded coconut
⅓ cup almond flour
Instructions
Pre-heat oven to 350 degrees Fahrenheit
Place egg whites in a blender, food processor or bowl. Blend till eggs whites are fluffy.
Mix in honey, cocoa powder, coconut and almond flour.
Spoon out 1 tbs of mixture per macaroon on to a tray lined with parchment paper.
Bake in over for 15 minutes or until light brown in color.