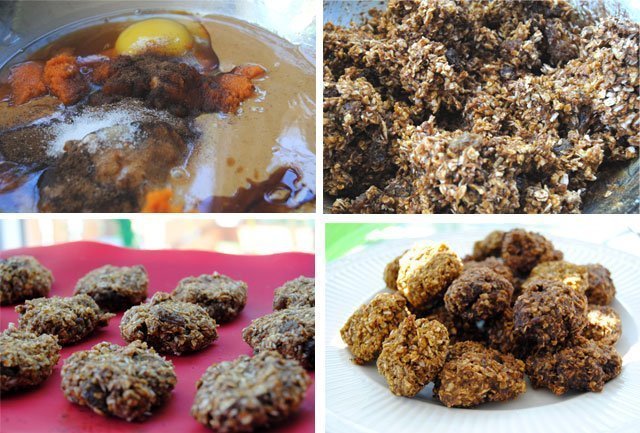 Affiliate Disclosure: Some of the links below are affiliate links, meaning, at no additional cost to you, I will earn a commission if you click through and make a purchase.
Looking for something yummy, quick and healthy first thing in the morning, how about a breakfast cookie. A friend of mine gave me this recipe, which I so love because it's kind of a throw whatever you have on hand, kind of recipe.
Today we made pumpkin, peanut butter, oatmeal, coconut, raisin, and flax seed cookies.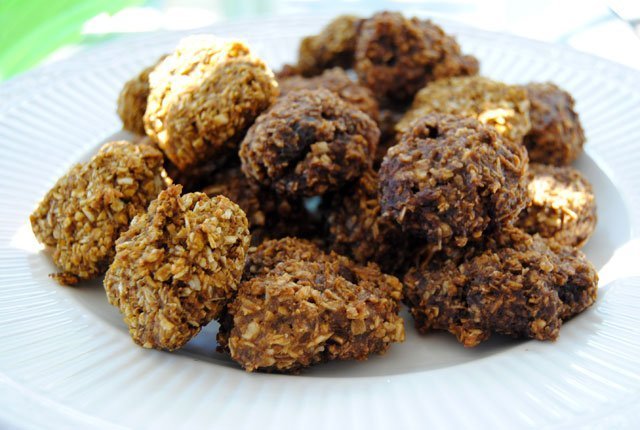 You can substitute almost anything for anything else. If you're not a pumpkin fan, you could have 1 cup of peanut butter instead of 1/2 a cup, if you don't like peanut butter, any nut butter will do.
Not a fan of maple syrup, try honey. 1 egg or 2 eggs, it depends how chewy you like your cookies. I use two eggs because I love soft chewy cookies.
After adding in the pumpkin, nut butter, eggs, maple syrup or honey, baking soda and salt, you need to add about 3 cups of whatever.
[headline style="13″ align="left"]
A Whatever Suggestions List:
[/headline]
[bullet_block style="size-16″ small_icon="37.png" width="" alignment="left"]
Oats
Raisins
Chocolate Chips
Hemp Hearts
Walnut pieces
Sunflower seeds
Any nuts or seeds
Coconut
Ground flax
Cocao
Dried cranberries
Ground chia
[/bullet_block]
[feature_box style="14″ only_advanced="There are no title options for the choosen style" alignment="left"]
On a be careful note, these little baby cookies, with all their real food goodness, pack a calorie punch. I could easily down 10 cookies at a time and today I think I did. That's 1370 calories. So just a warning, be careful nut butter = very high in calories.
[/feature_box]

Healthy Breakfast Cookies
Serves: 20 cookies
Serving size: 1 Cookie
Calories: 137
Fat: 8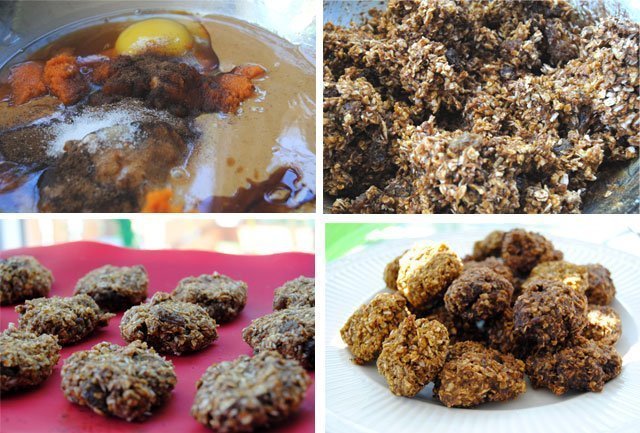 Ingredients
½ cup peanut butter (try for peanut butter that actually just has peanuts in it)
½ cup pureed pumpkin
¼ cup maple syrup or honey
2 eggs
½ tsp. vanilla
½ tsp. baking soda
2 tsp. pumpkin pie spice
¼ tsp. salt
3 cups of your mix in choices
For the calories amounts listed below, my 3 cups were:
1¼ cup oats
½ cup raisins
¼ cup ground flax
1 cup coconut
Instructions
Preheat oven to 350.
Mix all ingredients in a large bowl.
Scoop up tbs size balls of mixture and press on to baking sheet.
Bake for 12-15 minutes depending on size of cookie.