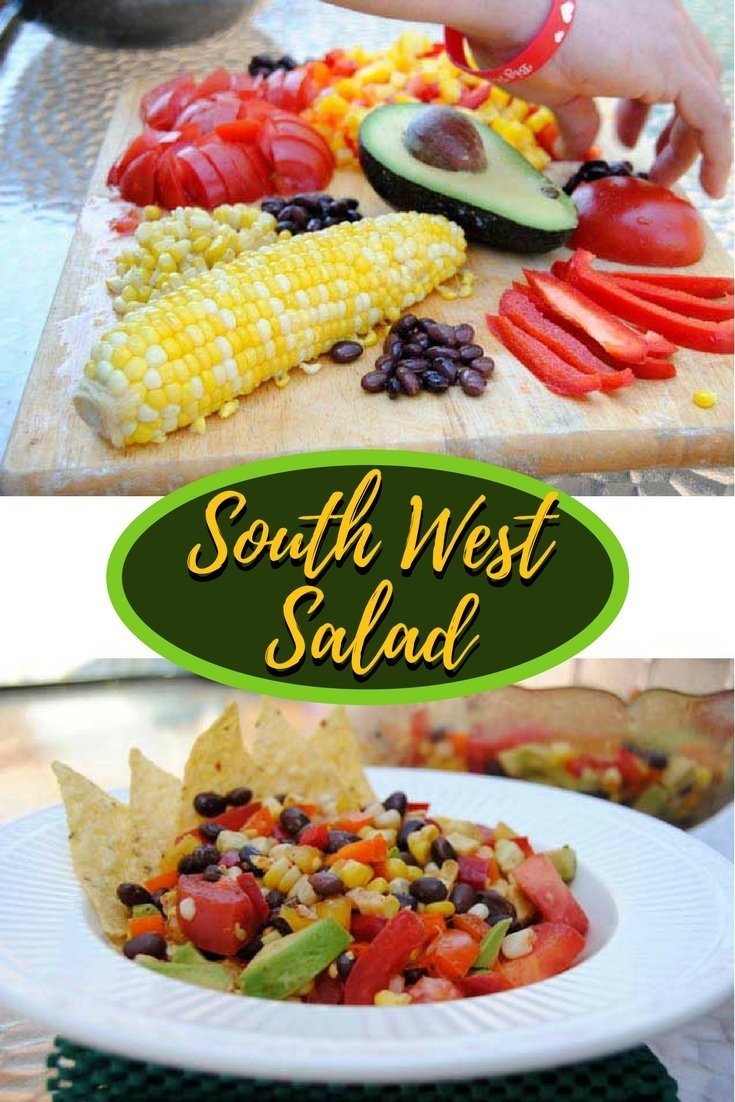 Affiliate Disclosure: Some of the links below are affiliate links, meaning, at no additional cost to you, I will earn a commission if you click through and make a purchase.
A quick and easy recipe, that if you keep a decently stocked kitchen will take minutes to prepare. For full flavor you can let it marinate for 45 – 60 minutes, but that would really only be for you, the kids won't know the difference.
That said, toss this together, throw it in the fridge for an hour or so while you go outside and play , bring the kids in and BAM…. good to go.
Now just with everything there is a simple way and a more complex way to do it depending on how REAL you want your food to be. So, obviously using fresh food is healthier and better, but using canned is a lot of the time much more realistic. At the end of the day it's your call.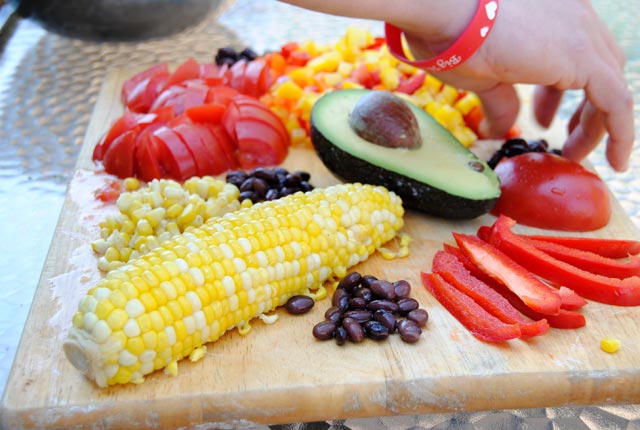 Here's what you need, Corn, black beans, tomatoes, green onions (if your kids like them) red and yellow peppers, avocado and tortilla chips. Seasoned with lemon and or lime juice, chili powder, salt, pepper. Also, if your kids actually like salad, a little romaine lettuce would be a great touch.
The verdict is still out as to whether or not Remi actually likes it. She eats it, and sometimes looks happy about it.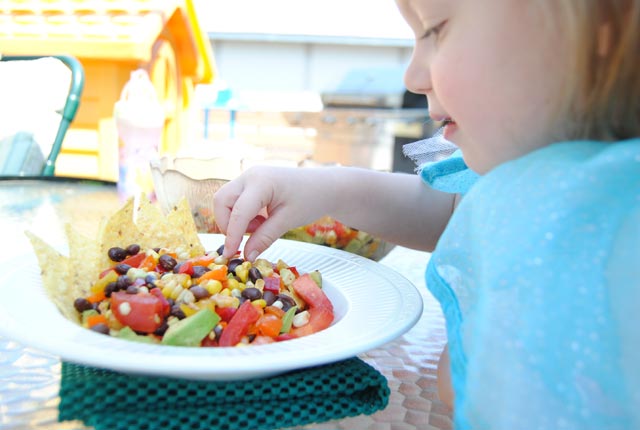 Southwest Kid Friendly Salad (Maybe)
Serves: 10
Serving size: 1 Cup + 15 Chips
Calories: 308
Ingredients
1 can black beans
2 cups of corn ( or if you using cobs 4)
3 roma tomatoes
1 red pepper
1 orange pepper
½ yellow pepper
2 avocado
4 cap fulls of lemon or lime juice or juice of 1 lemon or lime
1 teaspoon chilli powder
1 tablespoon cajun spice
2 pinches of salt and pepper
Corn tortilla chips
Instructions
Cut up your tomatoes, peppers and avocado into small bit size pieces
Mix all the ingredients together
Put in the fridge for 45 minutes
And serve, use the corn tortilla chips for scooping, instead of spoons.