---
Summer is here! Nothing is better than a cool refreshing watermelon fruit salad on a hot day. 
Affiliate Disclosure: Some of the links below are affiliate links, meaning, at no additional cost to you, I will earn a commission if you click through and make a purchase.
Watermelon is so hydrating and so yummy. 
Watermelons are mostly water — about 92 percent — but this refreshing fruit is soaked with nutrients. Each juicy bite has significant levels of vitamins A, B6 and C, lots of lycopene, antioxidants and amino acids. There's even a modest amount of potassium. Plus, this quintessential summer snack is fat-free, very low in sodium and has only 40 calories per cup. 

https://www.livescience.com/46019-watermelon-nutrition.html
My favorite breakfast memories from childhood are when my mom would put together a fruit salad bowel with milk.
100% way better then cereal and I loved cereal.
All the different sweet and citrus flavors bursting in your mouth.
The only problem I have with watermelon is that even though it's actually super easy to throw together.
The thought of cutting up a watermelon is very painful to my brain.
I know logically it's not a lot of work, but part of my brain does not believe that.
---
Cool Tools – Making Watermelon Salad Easier
These cool amazon tools make it so much easier to cut up and store your watermelon.
The one step watermelon cube slicer has to be my favorite.
It's so much easier when you need a snack to pop a few cubes into your mouth, then it is when you cut the watermelon into triangle shapes.
Especially when camping or hiking, cubes, are the way to go.
Keeping it fun, exciting and interesting.
Love this kind of stuff, because it's easy to throw together (easier with cool tools), it looks awesome and it just makes eating real food that much more enjoyable.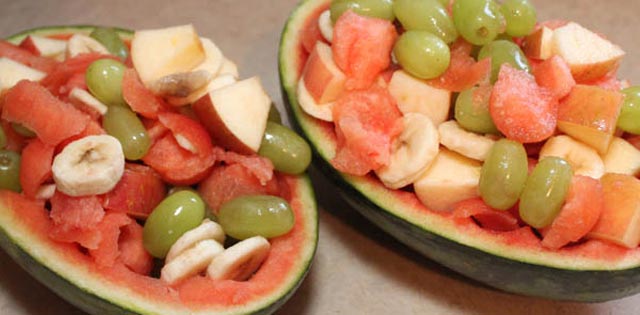 Take some of that fruit salad, toss it in a bowl with some almond milk, top it off with whipped cream and you've got something healthy and delicious.
Serves: 8.5
Calories: 250
Fat: 2.7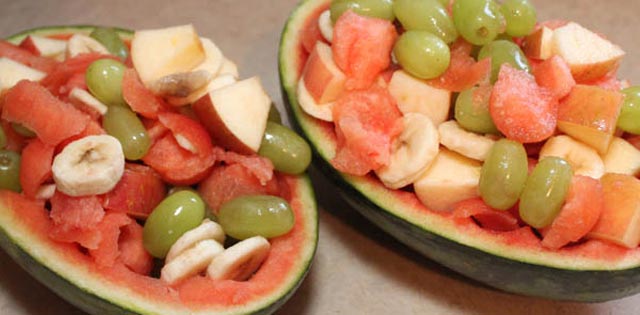 Ingredients
1 small watermelon
15 ounces of pineapple
1 pound of seedless grapes
2 apples - peeled or unpeeled
2 bananas
Optional - Full fat cream...yum but really everything in the salad is optional, add strawberries, blueberries, or if like me you totally forgot the pineapple don't sweat it.
Instructions
Cut the watermelon lengthwise in half. Scrap out the seeds in the middle, then use a spoon or melon baller to hollow out the rest.
Cut apples, pineapple and slice bananas into bit size pieces.
In a bowl toss everything together. Watermelon, pineapple, grapes, apples, banana and any other fruit you decided to use.