It's no secret that I'm a sucker for anything vegan and gluten-free. But I also love desserts, so it should come as no surprise that this recipe is my new favorite! These No Bake Energy Bites are healthy, easy to make and the perfect snack or dessert. The best part? You don't need any baking skills or fancy kitchen equipment – just a few simple ingredients from your pantry. This recipe has been adapted from one of my favorite books that changed my life Fiber Fuel.
Affiliate Disclosure: Some of the links below are affiliate links, meaning, at no additional cost to you, I will earn a commission if you click through and make a purchase.
If you're craving something sweet, but want the added benefit of being healthy too- then these chickpea chocolate chip cookie dough energy bites are perfect for your taste buds! They have a delicious flavor profile that will make anyone smile.
No Bake Energy Bites Calories
I was surprised how low calories these energy bites are. If you make 16 bites they are anywhere from 30 to 91 calories, depending on the chocolate chips and oat flour you use. I like to use rolled oats and make my own flour, which I finds has less calories than store bought oat flour.
I don't know why different brands of oats have a calorie, but something to look at if you want to keep the calories low on this snack.
You will love how easy it is to make these. It only takes a few minutes, and then your kids can have them for breakfast or an after school snack. If you use almond butter or wow butter, your kids might even be able to take them to school, depending on your school rules around nuts.
I love that my kids have been eating healthier snacks since I started making this recipe. They are also great for when they need a quick boost of energy.
You will need a food processor or blender for this recipe. A food processor works best for mixing thick nut butter with oat flour.
I like to use our coffee grinder to make our own oat flour, but if you don't have oat flour or a coffee grinder you could just mix rolled oats, the balls just won't be as smooth in texture. I don't mind it either way, but my kids prefer them smooth.
A coffee grinder is an excellent investment for people who enjoy grinding their own flaxseeds and chia seeds, as well as oat flour. Some people like to grind a bunch in advance, but I'm always worried about it going rancid. If you do want to grind some in advance, store it in the freezer.
No Bake Energy Bites Ingredients
Energy bites are so versatily so feel to get creative. You can add:
ground flax,
chia seeds, ground or whole,
pumpkin spice,
cinnamon,
raisins,
dates,
coconut flakes,
take the chocolate chips out,
goji berries
and so much more.
Feel free to experiment and get crazy!
I dare you to try not to eat at least a few before storing them in the fridge.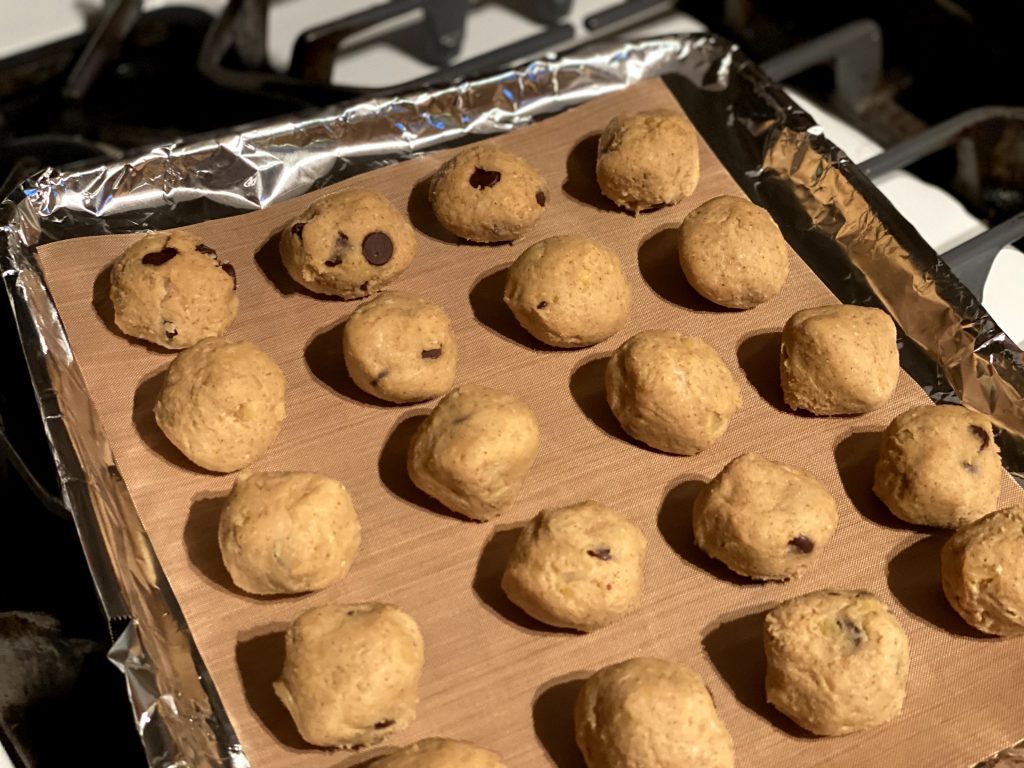 If you want more amazing, healthy recipes like this one, I highly recommend you get the book, Fiber Fueled.
It has truly changed my health and my life.
I have been struggling to digest my food for years without much success. I have silent reflux, SIBO and chronic constipation,. It's been really hard for me because I've tried most of my life to be in the best health possible.
But I have never been able to be consistent, do to chronic symptoms.
I was at my wit's end when I stumbled across Fiber Fueled by Lindsey Sarno. What stood out the idea of restriction creating the issues. When we have health issues, we often ask what are we doing or eating that is creating it, and then try to run experiments by removing things.
If you can relate, then you've probably heard of the Elimination Diet.
The elimination diet is a diet plan where various food groups are eliminated from the diet. The idea behind this is that those foods could be causing digestive issues, so those foods are removed from the diet. It's typically done for about four weeks, but it can go for as little as a few days to a few months.
The idea is that if your discomfort seems to be coming from a food group, then you'll want to remove that group from your diet. Then do another elimination diet with another group of foods and compare the results.
As I've found, at a certain point you've pretty much removed everything only to end up with more issues. The problem may not be something you need to remove but instead, it might have been what was missing, what do you need to add.
Yes, I had a wide range of food intolerances, though it was due to my diet's lack of diversity and the fact that I didn't get enough fiber, which meant I lacked gut bacterial diversity to digest foods.
I hope you enjoy these as much as we do. To your health and your gut microbiome.
No Bake Energy Bite Recipe
Chickpea Chocolate Chip Cookie Dough Bites
Yield:
Makes 16 to 20 Bites
Ingredients
15 ounces of chickpeas or 1 can, drained and rinsed
1/2 cup of rolled oats or instant oats
1/4 cup of nut butter
2-3 tablespoons of maple syrup
1 teaspoon pure vanilla extract
1/4 teaspoon salt
1/4 teaspoon ground cinnamon (ceylon)
1/3 cup dairy-free chocolate chips
Instructions
Ground rolled oats into flour, using a blender, food process or coffee grinder.
Add chickpeas, oat flour, nut butter, maple syrup, vanilla extract, salt, and cinnamon into your food processor.
Blend until a dough forms. Taste and add more maple syrup if needed.
Fold in the chocolate chips by pulsing just until the chocolate is combined.
Us a tablespoon for measuring the dough and roll into balls.
Place on baking sheet and store in the fridge to harden for at least 15 minutes.
Move to an airtight container and keep in the fridge for up to 1 week if they last that long.