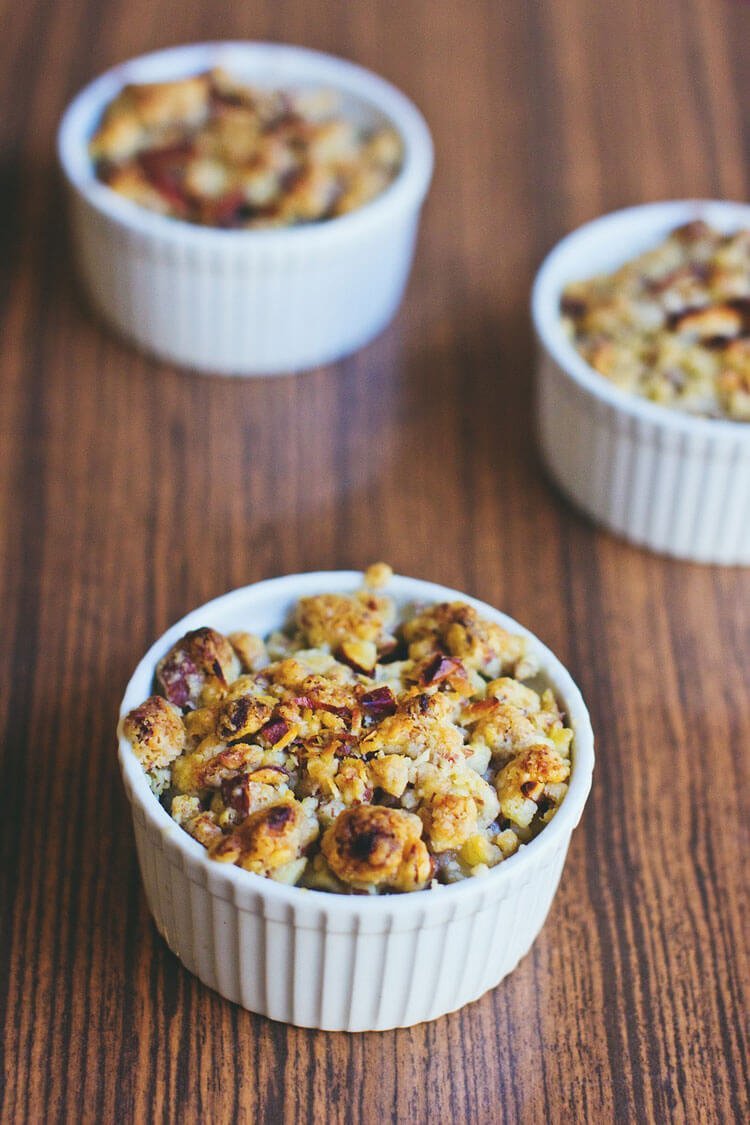 I love this vegan apple crumble recipe for Thanksgiving dessert.
Affiliate Disclosure: Some of the links below are affiliate links, meaning, at no additional cost to you, I will earn a commission if you click through and make a purchase.
There is never a better time to make apple crumble. We always take the kids and go apple picking the last week of September or the first week of October.
There isn't a better excuse to get out into nature, and show the kids that food doesn't come from a store or a drive through window.
We get so many apples, we have no choice but to make apple crumble for every.
But, I pretty much make this for every special occasion. It's like, currently the only vegan dessert I know how to make. And one that I know other people love.
They are always shocked when I tell them there is zero sugar in it. It tastes so sweet. It is sweet.
Of course it tastes sweet. There is so much natural sugar in in apples and raisins that I have a sugar hangover the next morning, after eating it. 
I love that even on Thanksgiving, I don't have to tell myself that because it's a holiday, it can be a "Cheat Day". There is no need to eat junk food, when real food tastes this good. 
I like to mix up the nuts in the topping. Sometime we use almonds, sometimes cashews, sometimes almonds and cashews.
Unfortunately, you do need a food processor for chopping the nuts and mixing the topping.
But if you are vegan or getting into a more plant based diet, you are going to want or have a food processor anyways. 
Some of the best vegan foods, that will seem like treats, are made with the food processor. Trust me, this is one appliance you will be using. 
I ended up buying one at Canadian Tire for $80. I should have just bought the same one on Amazon when I originally saw it for even less.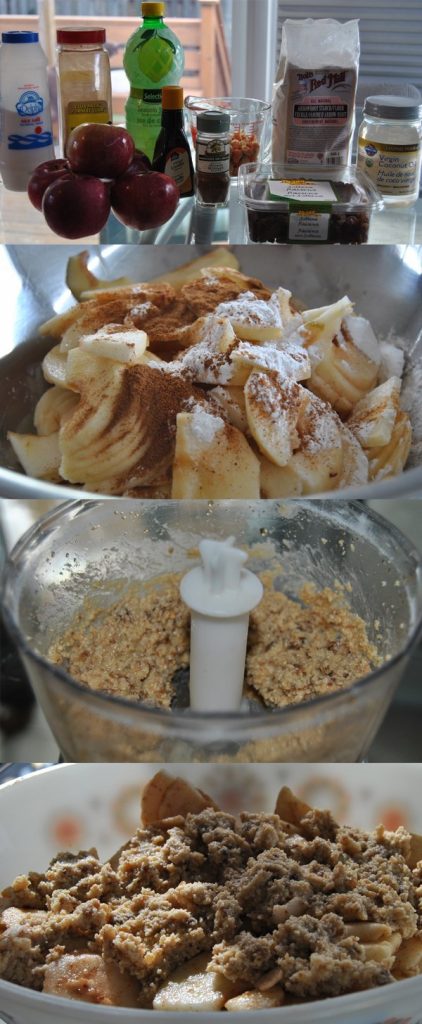 As I have recently just switched to vegan, I realized the tiny food processor you seen in the pics above, was not going to cut it for all the little energy balls we like to make.
Like our favorite, Chickpea Cookie Dough Bits. So if you are going to buy a food processor, get one with that's at least 8 cups.
And if chickpea cookie dough bits, sounds like heaven, you have to get the book Fiber Fueled even if it's just for the awesome recipes.
I hope you enjoy it as much as we do. #vegan #nurished #fulloffiber
Apple Crumble Recipe - Gluten Free ~ Sugar Free
Ingredients
The Apple Filling:
5 apples (any kind will do)
½ tsp of cinnamon
¼ tsp of nutmeg
2 tbsp of lemon juice (or juice of two lemons)
1 tbsp of arrowroot powder
The Crumble Topping:
1 cup of unsalted nuts (any kind of nuts or a mixture of nuts will work, I like cashew and/or almonds)
¼ tsp salt
3 tbsp arrowroot powder
4 tbsp coconut oil
⅓ cup of raisins (any kind)
1 tsp vanilla
Instructions
Preheat oven to 325 degrees. Use butter or coconut oil to grease up a baking pan or dish.
Core, peel and slice apples thinly. Place in mixing bowl with other filling ingredients and mix.
Add nuts, salt and arrowroot powder in a food processor and pulse into small bits. Add coconut oil and vanilla while pulsing the mixture.
Add in the raisins and finish pulsing everything together.
Place apple filling in your baking dish. Crumble the topping over the filling. The topping will be doughy, so just do the best you can to evenly spread it over.
Bake for 45 minutes until golden brown.
This has become a staple dessert in my house. If I'm making this for a potluck or a special dinner, I like to make extra topping.
Save
Save
Save
Save
Save
Save
Save
Save