Disclosure: Some of the links below are affiliate links, meaning, at no additional cost to you, I will earn a commission if you click through and make a purchase. As an Amazon Associate I also earn from qualifying purchases.
30 Days of Meditation
It's only when we track things that we can truly see how consistent we've been. I've been embracing the whole bullet journal craze this year.
I'm loving the creativity of planning and tracking.
I use ClickUp on my computer and on my phone for tracking and organizing everything in my life.
But, taking the time to go a little old school with paper and pen, and then some coloring has been really motivating as well as relaxing.
I feel like I need to switch back and forth every now and then to keep my momentum going.
This morning I was getting back into meditation on the Peloton app, I love how many classes they have. Different topics, different instructors, and different lengths.
And I was thinking, I need something pretty to track my meditation consistency.
The Peloton app has a great feature to show each day you've taken a class but it doesn't break down the type of classes.
At first I couldn't think of how to set it up. I couldn't do it like the 30 Days of Yoga tracker, because then I would have just had rows of the same meditation vector.
30 Days of Yoga Bullet Journal Printable
So I decided to make it like the Year Goal Tracker.
Full Year Goal Tracker Printable – Stay Consistent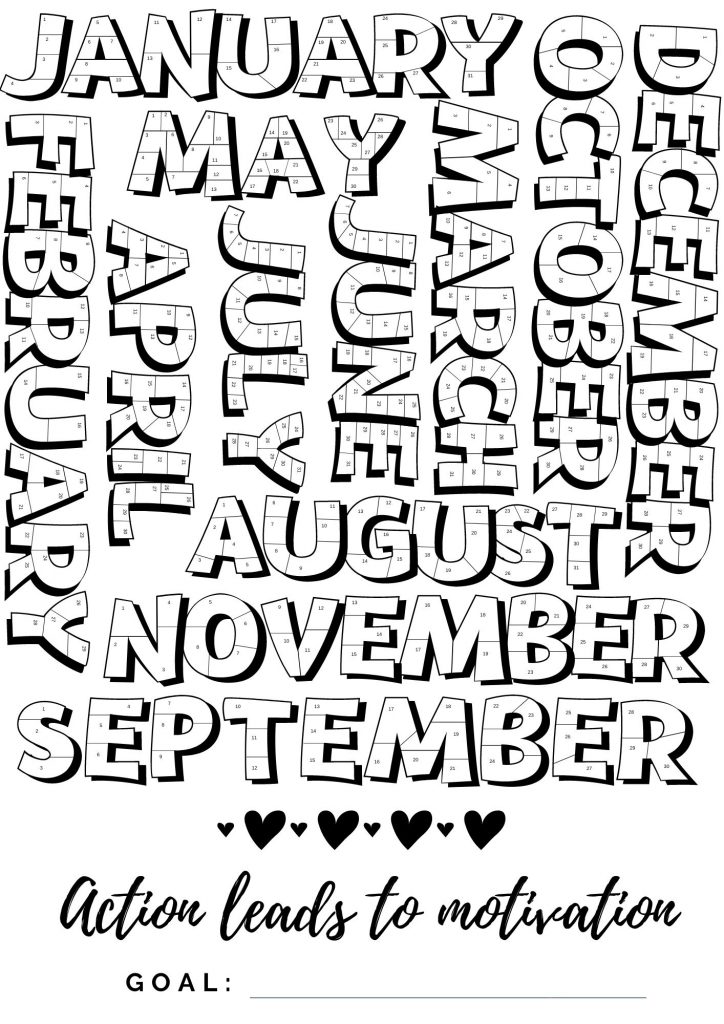 So here it is, I hope you like it!
Just click on the image to get the full size, then right click to download it.
Let me know in the comments below if their our other printables you would like me to make.