Basil is a delicious smelling herb has been well-known for bringing so much flavor to our dishes.
Affiliate Disclosure: Some of the links below are affiliate links, meaning, at no additional cost to you, I will earn a commission if you click through and make a purchase.
As many herbs, this is a great source of wellness, protection, and healing.
This wonder herb has been taken in as tea for thousands of years in India. It is to date, one of their most trusted remedies for flu, colds, cardiovascular disorders and vision problems.
However, basil isn't just an effective treatment for physical ailments – it's also a wonderful ingredient for busting stress.
This powerful herb has been proven to calm both the mind and the nervous system and is great for melting stress away.
With its unique taste and sensuous aroma, a cup of tea from fresh basil leaves is perfect for helping you relax and feel calm, while also protecting you from a wide range of physical ailments.
Indeed, a natural way to reduce stress and boost the body – a pure gift from nature.
When feeling stressed out, here is how to make a hot tea out of fresh basil leaves.
Stress Busting with Basil Tea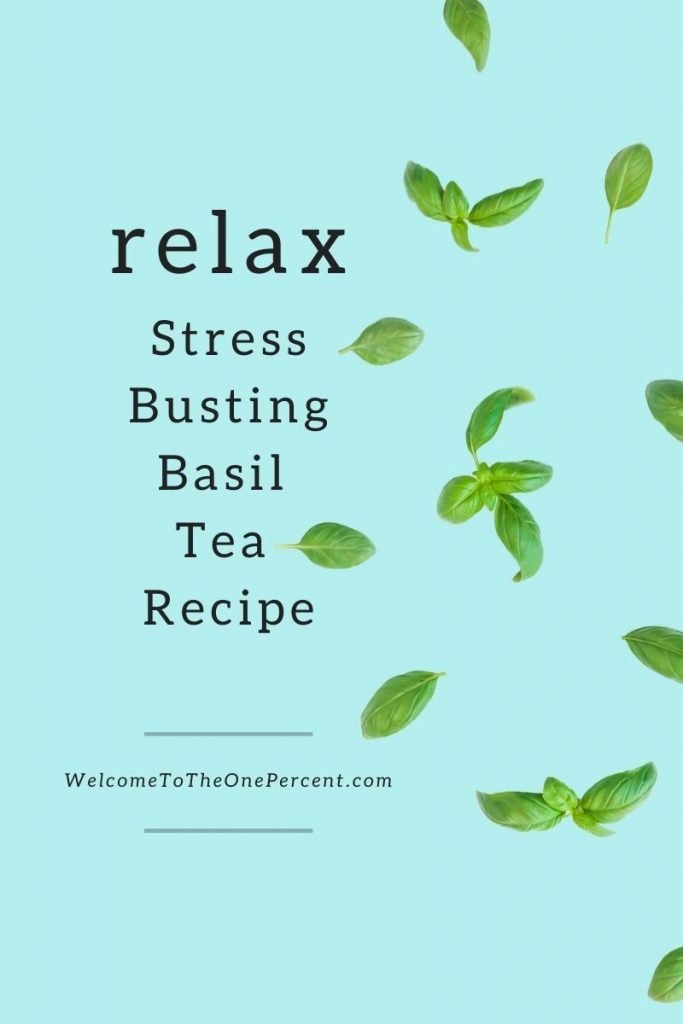 Ingredients
4 fresh Basil leaves
1 lemon (optional)
1 teaspoon of honey (optional)
Instructions
Pick the freshest basil leaves and wash them. Wash them carefully without having to blemish the leaves.
Cut the leaves into smaller and thinner portions.
Prepare a kettle (any other container for boiling) of water. Let the water boil at high temperature.
Put the hot boiling water into your cup, mug, or any thick glass container. Then, put the cut fresh basil leaves into it.
Let it set for around 3-4 minutes until the water turns into a bit of golden-color.
Using a strainer, remove the leaves and set them aside.
Enjoy your fresh basil leaves tea! Indulge. Be well. You can add honey or brown sugar for a sweeter taste. Alternatively, you can squeeze lemon into the basil tea for a zesty drink.
Whenever you're feeling anxious, uneasy or stressed, take a moment to relax… breathe better and seek healing from fresh basil leaves tea.
The best basil tea is made from your own basil plants. Be sure to check out How To Grow Basil.