Disclosure: Some of the links below are affiliate links, meaning, at no additional cost to you, I will earn a commission if you click through and make a purchase. As an Amazon Associate I also earn from qualifying purchases.
What six-year-old doesn't want a Sonic the Hedgehog Birthday Cake for their birthday.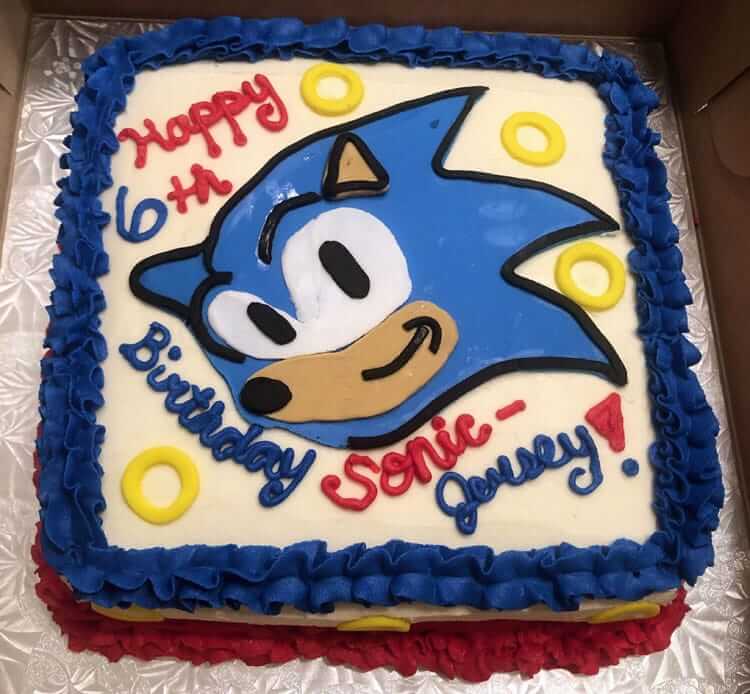 Our 6-year-old Jersey was born with congenital heart disease. Last year she went into heart failure and had two open heart surgeries. One was for a mechanical aortic valve and the second one was because a leaflet in her mechanical aortic valve stopped moving.
Needless to say, it was a rough year. We were in the hospital a total of 7 weeks.
With all the hardships and challenges having a child with congenital heart disease, there are some amazing people out there, who volunteer their time to make great memories linger for our family.
Jersey's childhood experience has had a number of hospital stays and surgeries. The carefree childhood experience is so often stolen from these children with congenital heart disease.
A Special Treat
While Jersey was in the hospital last September, she was confined to her room for a week because on top of just coming out of open-heart surgery, she came down with a cold.
There are actually a number of fun places for kids to go in Sick Kids hospital, but you can't go to them for obvious reasons if you are contagious.
So, while she was stuck in her room, she received a special guest. Sonic the Hedgehog came to visit her.
She was beyond happy to have a visitor who would play video games with her. Jersey taught Sonic to play Lego Star Wars. He wasn't the best player, cause his hands were a little too big for the remote controls.
But he had a great heart and tried really hard. Now Jersey loves Sonic.
Because Jersey spent so much time in the hospital last year, we were able to apply to Icing Smiles so she could get her birthday cake wish. A Sonic the Hedgehog Birthday Cake.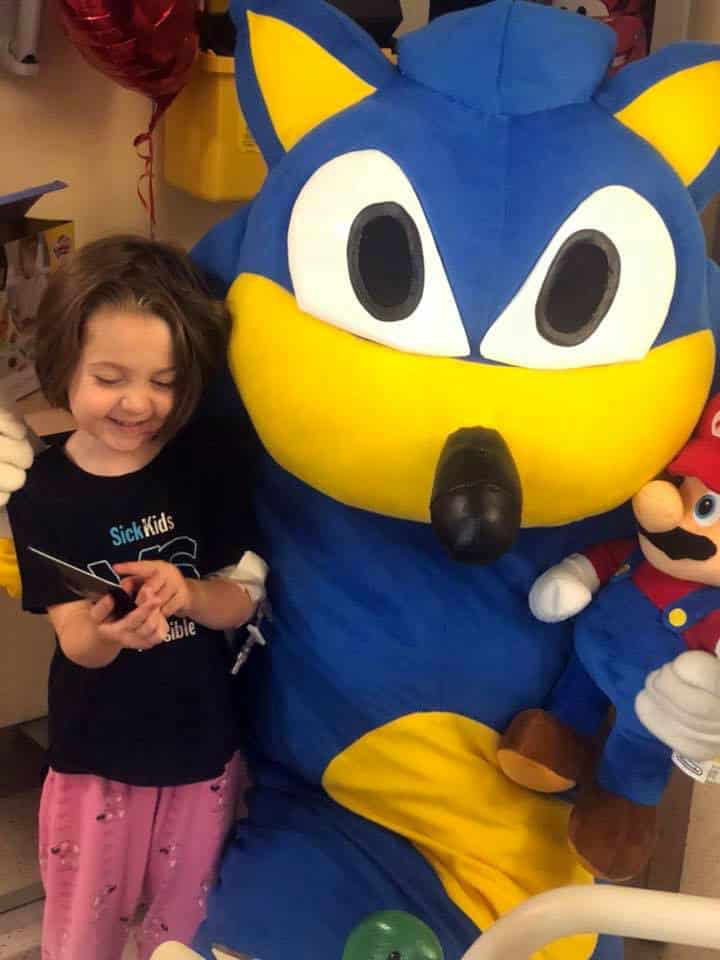 Icing Smiles Cakes
Icing Smiles is a nonprofit organization that donates their time to find bakers who will provide custom celebration cakes and other treats for families impacted by the critical illness of a child.
I was a little worried that they wouldn't be able to find someone, as I've heard from other heart moms that it does happen, that they can't find someone willing to donate that kind of time.
It can take 8 hours or more to make some of these special cakes.
Icing Smiles offers two types of cakes for families: Dream Cakes and Fun Cakes.
Dream cakes are tiered, 3-dimensional (3D) or carved cakes. These cakes require a signification amount of labor hours and have a "WOW" factor. Each child is currently allowed one under our program.
Fun cakes do not have all the elements of a Dream Cake but are still special to each child. These cakes can be used by the family for other events. Fun cakes are typically sheet cakes or single tier cakes that are customized for the child.
Because we know Jersey will have to have more surgeries, we decided to hold off on the Dream Cake until she is older and can appreciate it even more. We asked for a Sonic the hedgehog Fun Cake.
Pipe Dreams
Roilene Giosi from Pipe Dreams volunteered her time to make Jersey her birthday cake.
Roilene is a home baker, following her dreams. She specializes in vegan and gluten free cakes, cupcakes, pies, cheesecakes and is working on learning how to decorate cookies.
She did a great job on Jersey's cake and it tasted delicious. We can't thank her enough for her time and creativity.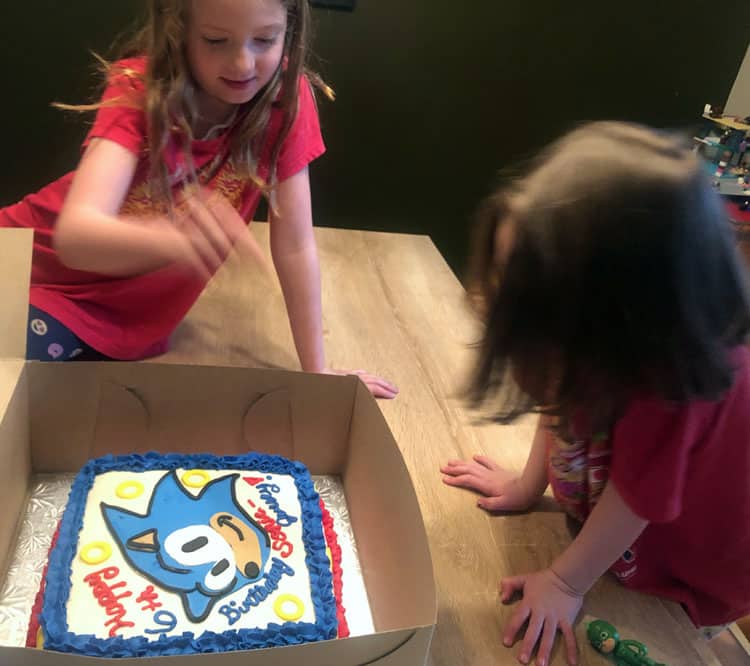 It's amazing the smiles and laughs that can come from the kindness of a stranger. For many heart families we know, memories are all they have, and they last long after the cake has been eaten.
Thank you again.
Spread the Word
It's so great to have non-profit organizations like Icing Smiles out there. They take pride in being able to serve every eligible child that requests a cake. This is a vast undertaking, and they can't do this without the help of generous donors and volunteers.
If you would like to help, visit their website to get involved.
If you would like to Receive a Smile, visit Icing Smiles to ensure that your family is eligible and request a cake.
Icing Smiles US
Icing Smiles Canada
Sonic the Hedgehog Edible Cake Image
Sonic the Hedgehog Birthday Cake Topper
Sonic Birthday Cake Ideas from Instagram