Best Mexican Corn In A Cup Recipe. I love corn, I love butter, I love mayonnaise, I love cheese and I love chili powder, so I love this Mexican street food, corn in a cup.
Affiliate Disclosure: Some of the links below are affiliate links, meaning, at no additional cost to you, I will earn a commission if you click through and make a purchase.
It's totally one of my comfort foods. At 329 calories, it's definitely something I like to know ahead of time if I'm going to be eating so I don't go overboard throughout the day on my food. I could eat this all day long.
Comment below if you love it, hate it or haven't yet tried it. Or what you add to make it taste even yummier.
Mexican Corn in a Cup Name
I always forget what Mexican corn in a cup is called. It's called Esquites but a number of sites are mistakenly calling it Elotes. Elote is the Mexican name for grilled corn on the cob.
But this is corn in a cup. Esquites is grilled corn removed from the cob and served in a cup, eaten with a spoon.
Ingredients to Make Corn in a Cup
There are a lot of great corn in a cup recipes online with slightly different ingredients. The basics are:
Corn, obviously, butter, chili powder, mayonnaise and cheese. For the cheese I tend to use feta cheese, cotija cheese is the traditional cheese used but I can never find it. My kids prefer to use parmesan cheese.
Lime juice and a lime wedge also seem to be a regular ingredient, but I normally skip it. Some people add sour cream, I have never tried that, but I think next time I make this, I'm going to give it a try.
The great thing about this recipe is that it's pretty much all to taste and optional. If you want more butter, add more butter. If you like to pour on the cheese go for it. It's not a recipe you can really mess up.
Traditional Mexican street corn in a cup is made with fresh corn grilled or roasted. But I've had corn from boiled cobs or even ordinary canned corn works good.
Mexican Corn in a Cup Side Dish, Snack or Meal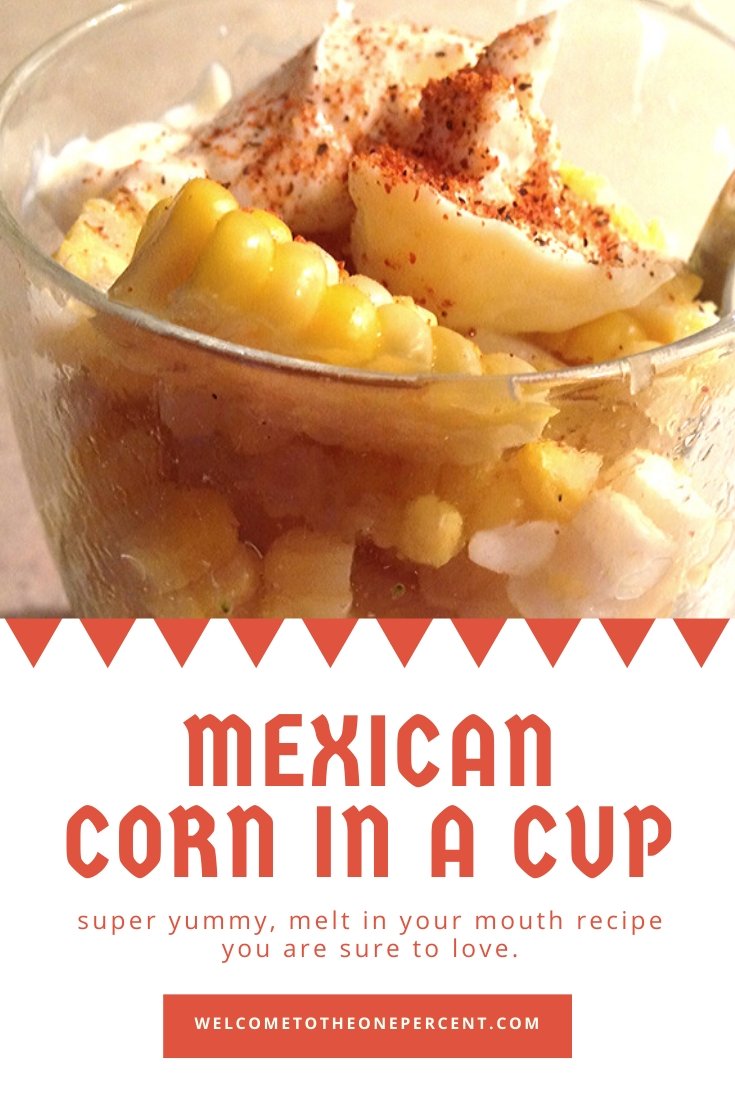 We I'm out and get corn in a cup from the food trucks, it's more of a snack. But at home it's the perfect side dish to any meal.
With the amount of corn we can eat in reality it easily could be our meal. It is definitely not short on calories.
How do you make corn in a cup?
Best Mexican Corn In A Cup Recipe
Serves: 1
Calories: 329
Fat: 26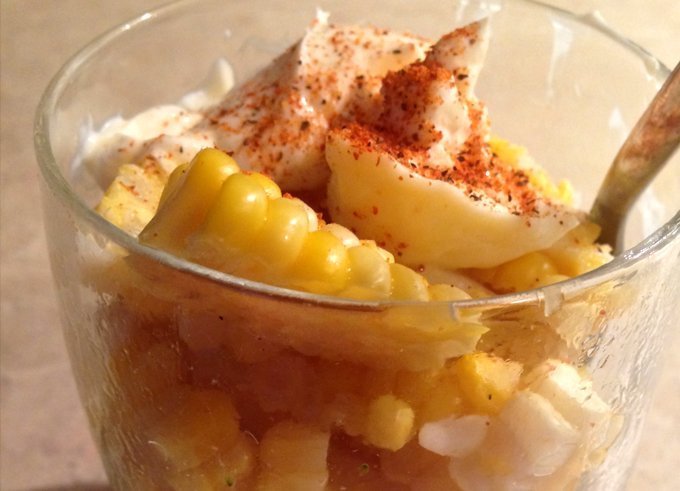 Ingredients
1 corn on cob
1 tbs Mayonnaise
1 tbs Butter
Spices to taste
Instructions
Cook the corn.BoilingFill a large pot about ¾ full of water and bring water to a boil. You could boil corn in its husk, but it will take much longer to cook. So you want the corn husked and the silks removed.Gently place ears of corn in boiling water, cover the pot and boil until tender for about 4 minutes.GrilledPreheat an outdoor grill for high heat and lightly oil grate.Husk the corn and remove silk. Place 1 tablespoon butter, salt and pepper on each piece of corn. Close husks.Wrap each ear of corn tightly in aluminum foil. Place on the prepared grill. Cook approximately 30 minutes, turning occasionally, until corn is tender.
Cut all the corn off the cob directly into a cup. The food trucks tend to use styrofoam cups, but at home we like to get fancy and use some nice whisky glasses.
Add a scoop or mayonnaise and a scoop of butter. I use 1 tablespoon when watching my calories and almost 2 tablespoons when not.
Add cheese on top.
Add spices.
Stir it all together and you are ready to serve.