Paddleboarding has become a popular activity in recent years, and for good reason. It's fun, low-impact exercise that can be done by anyone who is strong enough to stand up on the board. It's also a great way to enjoy the outdoors while enjoying some beautiful scenery! We're excited to introduce you to Serenelife paddleboards, which are perfect for beginners and pros alike.
You've seen people standing on surfboards out there in the water and now you want one. Right?
Affiliate Disclosure: Some of the links below are affiliate links, meaning, at no additional cost to you, I will earn a commission if you click through and make a purchase.
But what is the difference between a $300 paddle board and a $1000 paddle board? How many times are we actually going to use it? Where can use them?  Can I take my kids out on them? What's the weight limit on those things?
Paddle boarding is a fun activity to do with friends, but it can be expensive to buy and transport a board.
Most people don't know that paddle boards are actually really easy to use. If you have ever tried one before and found it difficult, then this inflatable paddle board will change your mind. This inflatable paddle board is both super stable and extremely durable. It's built with an extra thick PVC material that makes it more rigid than other similar products on the market today. It will hold up in all kinds of water conditions and last for years without any problems! Not only does this product look good, but it also performs great too!
The Serenelife stand up paddleboard weighs only 30 pounds and when deflated is so easy to carry and store away in your car or closet at home. Even better, our lightweight boards can support up to 350 pounds, which means anyone can use them!
We loved ours so much, we ended up buying a second one a week later.
Check out some of our great pictures. 🙂
It all started when I asked my partner what he wanted for Father's Day. Ok, that's kinda a lie. It actually all started when I realized we were going camping with a family who just got a paddle board. Together we make a party of 9, 4 adults and 5 kids. That's a lot of paddle board sharing.
I've always wanted to try paddle boarding, but I thought is was it's so expensive! I found some of the best boards on Amazon and read through all the reviews. There is a ton of great quality boards on there. You are sure to find one that fits your style.
We didn't get the most expensive, but I didn't get the cheapest either. I went with Amazon's Choice. The
Serenelife Paddle Board
. We had recently bought a Serenelife trampoline from Amazon and the quality was great. I loved the pictures people were sharing and I loved the funky design. The reviews for this paddle board were also great!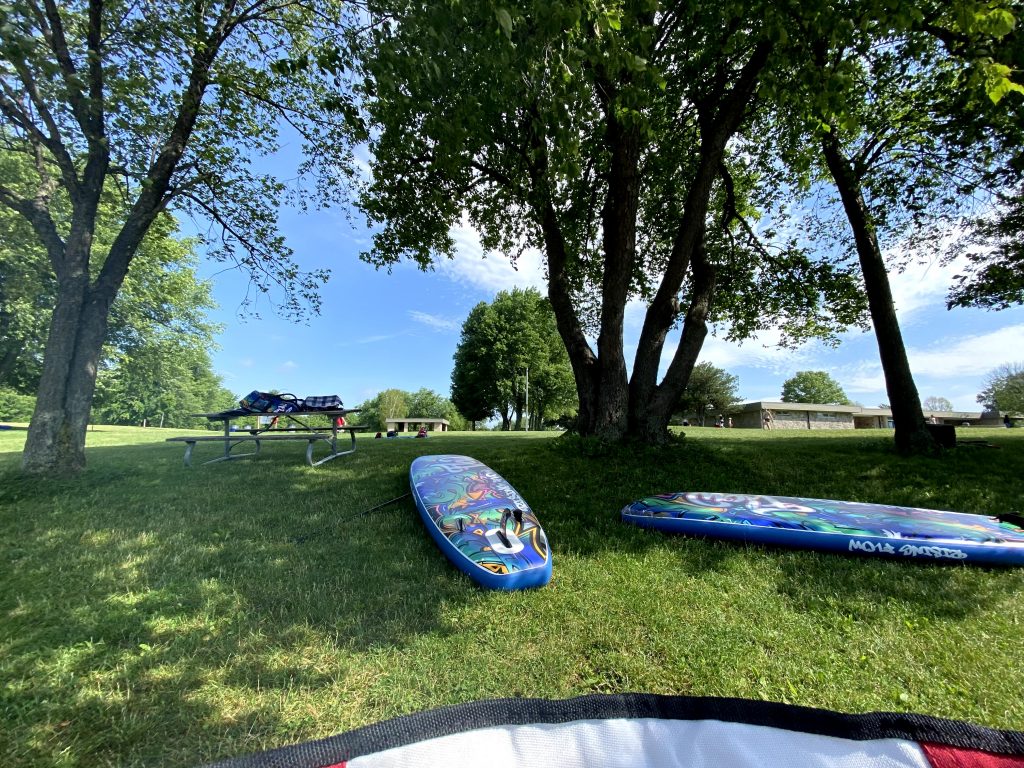 Paddling with your phone
It also comes with a waterproof case for my phone. A waterproof case for your phone is a must-have accessory when paddle boarding! One for safety reasons, and two, so you can take pictures to share on Instagram. 😉
If you are taking up paddle boarding and don't have an upgraded Strava account, I highly recommend getting it. Any time you go out in nature, it's a good idea to let someone know where you are and how long you plan to be out.
I'm no stranger to Strava, I used it quite often for hiking and running but never thought about using it while paddle boarding until recently. If you have an upgraded Strava, when you start an activity, you can have a text message automatically pop up to send a link to your designated contact.
This is fantastic for paddle boarding because you may be out in the water a good while and it's nice to have someone know where you are. Strava lets your designated contact track where you are on your activity map so this way they can see exactly where you are. You can even set up the alert to go off every 30 minutes or so, and it gives your friend a little reminder that their favorite surfer is still out there enjoying nature!
This is extremely helpful for those who paddle board alone, but I think it's just as useful if you have someone with you because they will see on the map where you are and if they don't hear from you or if you've been in one spot for a long time, they can try to message you to make sure your ok, or send help to your last location.
I have to say that inflating a paddle board is hard work. I was just going to embrace the workout, but then one of our manual pumps stopped working. I sent an email to Serenelife, they said they would send me a new pump asap, and they sent me an automatic pump!!!
I had been looking at the
automatic SUP board pumps
on Amazon. However, the reviews are mixed. A number of people said the pump blew their car fuse, more than once, and many also said it worked great the first few times, then stopped working.
Now, after having one, I very much recommend them. We always leave the car running while using the pump and have had no issues with it blowing the car fuse. It inflates the board in minutes and doesn't put too much stress on your back.
I'm not going to lie, I was a little worried about spending that kind of money on a pump, but after using ours, my brother bought one too, it's worth every penny! If you are thinking about getting one, don't hesitate. Just get it!
So how was the board? It is awesome! I'm so addicted now.
I had so much fun the other day! It was a sunny, breezy morning. The sun shone down and warmed my skin while I paddled around on top of that shimmering water. Paddle boarding is like yoga for me; it's meditative to feel how well your body can move when you place yourself in just the right position at just the right time over those undulating waves.
The kids had a great time with the board, as you can tell by their smiling faces. It was fun to be able to compare our board with other boards it gives us an idea on whether or not these more expensive boards are worth it.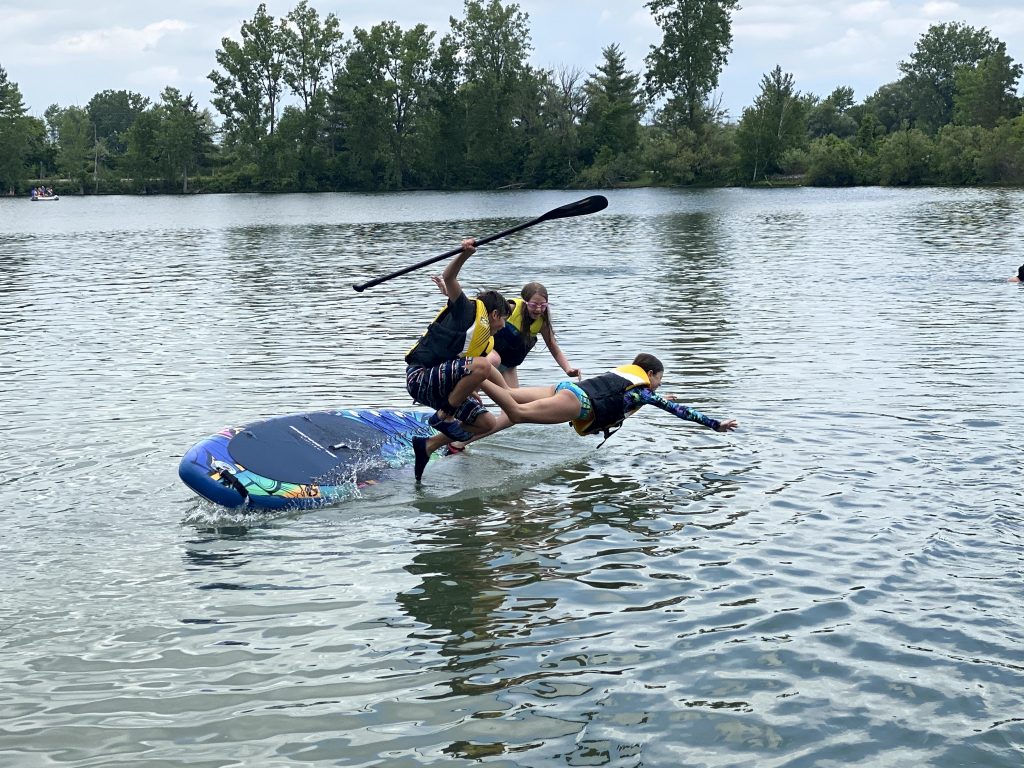 My thought was that if we also liked their board, we would get their brand board for our second one and save a bit of money. But after trying out theirs and after they tried out ours, everyone agreed we should just get the same paddle board we had.
That way, no one would be fighting over who got the better board. It was noticeably more stable. But, maybe with the larger size and stability you pay for it in speed. None of us were experienced enough to start racing as of yet, so I'm not sure.
I will tell you though, that I have seen board prices fluctuate like crazy on Amazon. If you are interested in getting a paddle board, but don't need it right away, keep checking Amazon for the lowest price.
I tend to hyperfocus for a bit when I get something new. I found all the Facebook groups for paddle boarding in my area. I watched tons of videos on YouTube on how to properly paddle, safety tips and tons of racing and trick videos.
Then, of course you need all the necessary accessories. Just so you know, as long as your board comes with a pump, paddle and phone case, you really don't need anything else to get out on the water.
That being said, there are a number of super cool accessories!
How hard is it to balance on a paddle board?
My first time out, I decided to take an apple for a snack and a water bottle. I'm proud to say I didn't lose either. I was pretty conservative in my moving around the board. I can easily go from sitting to kneeling to squatting and standing, but nothing like the kids were doing.
They were running and hopping back and forth on the board and doing plyometric jumps. I'm going back out tomorrow, so I might start experimenting, proving the water is warm enough. Lol, I've been babied with our 90 degree swim spa.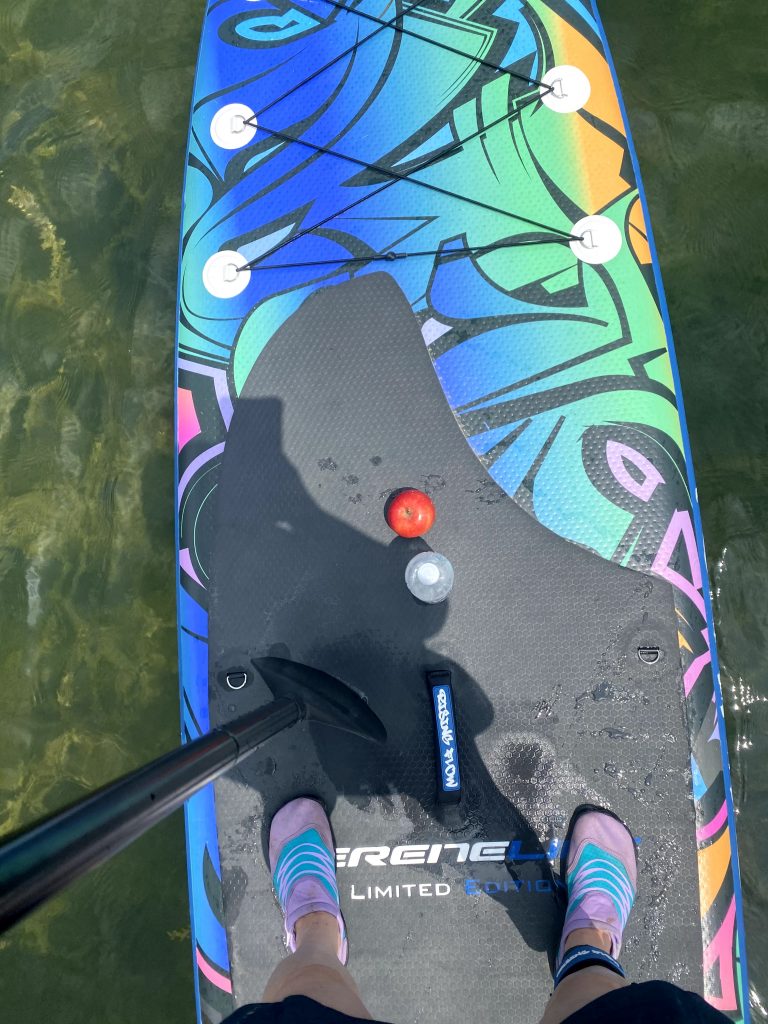 It's been a long time since paddle boarding has been this popular. I think it may be because people are realizing how much fun, and also how great of a workout, paddle boarding is. Not only that, but it can provide the relaxation you need from all the stress in your life if just for an hour or two at a time. And lastly, because there it's awesome for doing something with family and friends. And it's a perfect social activity that also allows for easy social distancing. If you want to give it try yourself, there are so many board options available so pick one today and get started! You won't regret investing in such a worthwhile activity for your mind and body as well as building stronger relationships with those closest to you!
P.S. If you end up addicted to your paddle board too, I would highly recommend getting a long sleeve bathing suit. Save on sunscreen and avoid those burns. I need to get one of these. My shoulders are looking kinda red from our excursion today.