Ever heard of a habit tracker that doubles up as a vibrant canvas for your inner artist? Yes, you read that right! Our exclusive coloring sheet printable isn't just a habit tracker; it's a joyous celebration of every day, every month, and every habit that you are nurturing to full bloom!
Imagine waking up each day with not just the resolve to stick to your habits but with a burst of creativity itching at your fingertips. Picture the satisfaction of not just marking a day done but painting it with hues that mirror your mood, your victory, and your journey.
As you embark on this vibrant voyage through the year, each month greets you with its bubbly personality, quite literally! You see, each month is represented as a bubble word, brimming with potential and awaiting your colorful embrace. These aren't just words; they are your canvas, a vivid tapestry of your discipline woven with threads of reds, blues, yellows, and greens.
But wait, there's more to this kaleidoscope of dreams! Each day is a tiny section within the bubble word, urging you to bring it to life with your artistic flair. Fill it with colors that resonate with your vibe for the day, or maybe even doodle a tiny icon representing your accomplishment — the canvas is yours to claim!
As January rolls in with its chilled breeze, warm it with fiery reds for every day you stick to your morning jog. Let February be a canvas of pinks and reds, a loving reminder of the self-love you are nurturing through daily meditation. March could be a burst of greens and yellows, a symphony of spring, and a testimony to your blossoming yoga routine.
As you glide through the year, let this habit tracker be a living, breathing entity, a vibrant friend that cheers you on in your journey. It's not just about tracking habits; it's about celebrating them, painting them with the brushstrokes of dedication, joy, and sometimes, a little bit of whimsical fun.
The beauty of this printable is that it's not just for adults; it's a playful companion for kids too. Encourage your little ones to take up habits like daily reading or keeping their rooms tidy, and watch them dash towards their coloring sheet, eager to fill in their day's victory with the brightest shade from their color palette.
As the year ends, you won't just have a habit tracker; you'll have a masterpiece, a vibrant testimony to your journey, a colorful diary filled with stories of perseverance, joy, and a rainbow of achievements.
So grab those coloring materials, roll up those sleeves, and dive into a world of colorful habits with our fabulous, free habit tracker coloring sheet printable. It's not just a sheet; it's a canvas of possibilities, a mural of dreams, and most importantly, it's a fun, fabulous, and free way to forge forward to your better self!
Let's color our way to habit mastery, one joyous, vibrant day at a time!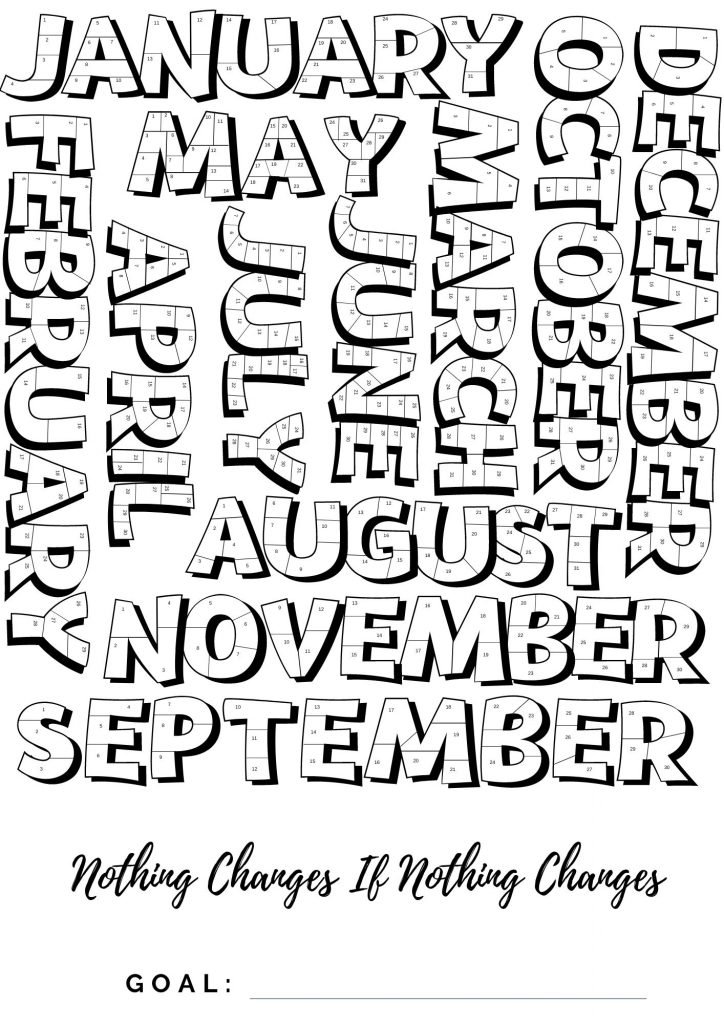 Click on the image above to save and print the color tracking sheet.
More Printables You Can Download Now