Another recipe that looked so good I was sure it must be time consuming and hard to make.
Affiliate Disclosure: Some of the links below are affiliate links, meaning, at no additional cost to you, I will earn a commission if you click through and make a purchase.
I've never actually read the instructions until today.
I got all the ingredients this morning determined to put my baking fears aside and get it over with, then I proceeded to procrastinate for the rest of the day.
Procrastinating on cooking for the purpose of sharing it on a blog really sucks because I lose the good lighting in our sun room to take some really awesome pictures of the end result.
When I finally looked at the directions I was shocked to see that the crust required no baking what so ever.
My fear of not being able to bake the crust and messing it up was not needed because it didn't even apply.
However, because I procrastinated all day, I may have been rushed trying to get it down before losing all natural light in the sun room. I totally forgot to add the sunflower seeds.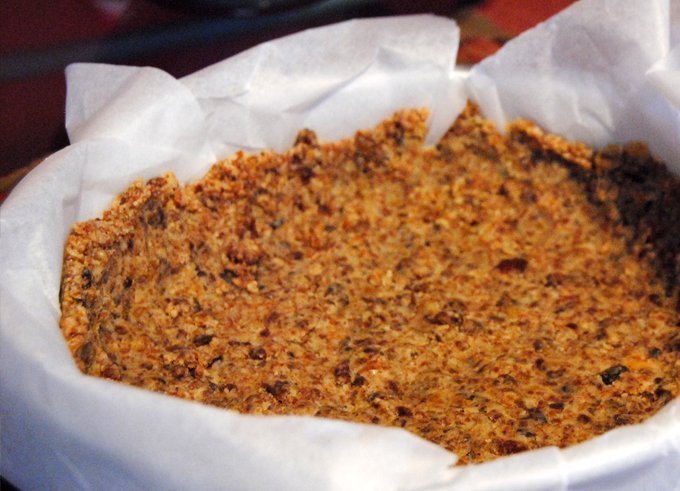 The whole thing still tastes awesome, but I think the crust would hold together even better with the sunflower seeds.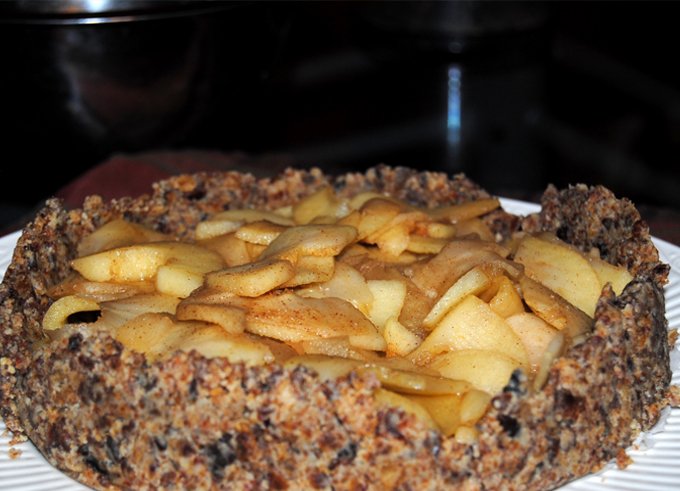 Moral of the whole story:
Things normally are not as hard as they seem.
At least know what you are getting into before you start labeling things as to difficult or hard.
Procrastinating, whether something is difficult or not is most likely going to lead to rushing things, which comes with the greatest chance of screwing up, which is probably what you were afraid of in the first place.
Just do it, it tastes awesome and was super easy. 🙂

Thanksgiving Gluten Free Apple Tart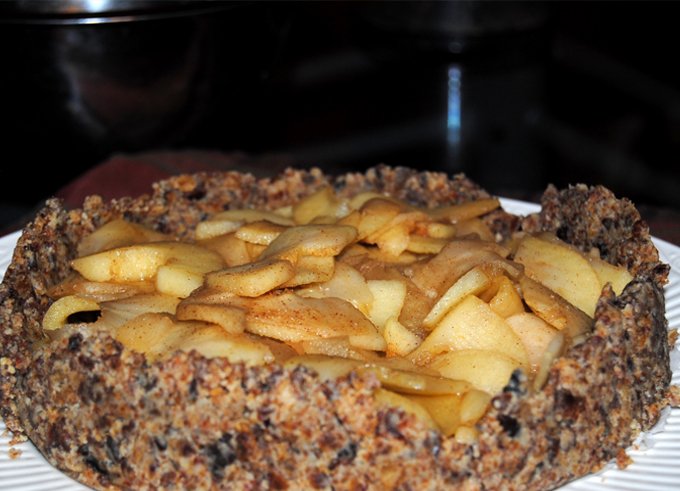 Ingredients
Pastty
1 cup walnuts
1 cup almond flour
½ cup sunflower seeds
1½ cup dates or 240 grams
Apple Filling
¼ cup lemon juice
2 cups water
⅓ cup orange juice
2 tbs honey (optional)
½ tsp ground cinnamon
½ tsp all spice
¼ tsp ground cloves
3 large apples, cut into small thin slices. (skin on or off)
Instructions
Combine all pastry ingredients into a bowl, add all or some to your food processor depending on its size. Process on high until a coarse texture with all the dates blending into mixture.
Line a 23 cm pie pan with parchment paper, then press pastry mixture evenly along the bottom and sides. Place pan in the refrigerator for 30 minutes or more to harden the crust or in the freezer if you need it faster.
Add all the filling ingredients in a pan.
Place on stove, medium heat until apples are soft.
Remove and let cool.
Spread apple slices evenly in the pie crust.