Disclosure: Some of the links below are affiliate links, meaning, at no additional cost to you, I will earn a commission if you click through and make a purchase. As an Amazon Associate I also earn from qualifying purchases.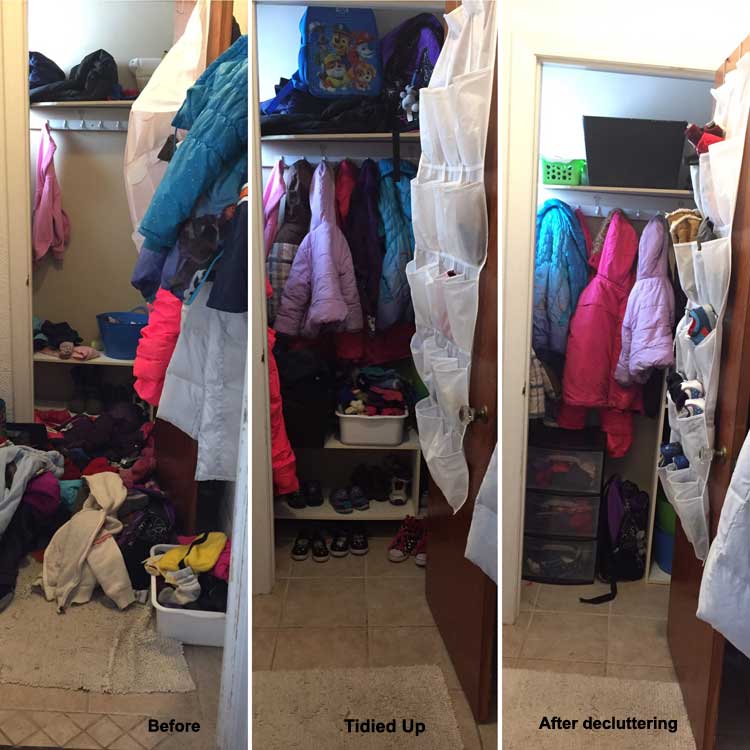 I've noticed that the more I declutter, the more I can declutter.
The first time I decluttered the house, I thought I got rid of the things we didn't use. I thought I got rid of the things that provided no value.
Then I notice those areas get messy again. If we don't put things away right after using them, the area of course gets messy, but clutter truly attracts clutter.
This is about two weeks of tossing things by the closet door. We get home and I tell the kids to go put your coat and boots away. They toss them on the floor, no matter how many times I tell them, that is not putting them away.
Then it becomes contagious. I'll pick their stuff up and just toss it in the pile. It's a mess anyways, I'll come back when I have more time to clean it up.
Once I reach my limit of mess, which for the closet seems to be pretty much when everything is on the floor by the closet, I am a slob in disguise, then I tidy up.
Every item has a home, tidying up is pretty quick, but since the area isn't truly decluttered and my slob in disguise issue, it gets messy again quickly.
With 3 kids, new things are always coming into the house. We are blessed to get tons of things from friends, like winter hand-me downs. I label and toss all the hand-me downs in the closet until the weather warrants pulling them out.
I did a quick filter of what was needed, what fit and put all the kids winter gear in the front closet. Everything had a home but most of the homes were overflowing.
It was on "the list" to declutter and spark joy to the front closet, but it wasn't until the kids had a clothing drive at school, the class that donated the most got a pizza party, that I was motivated to ruthlessly declutter and minimize.
Below are my before, tidied up and after decluttering photos.
I wish I could say that my motivation to ruthlessly declutter, led to me ruthlessly decluttering.
All things that didn't fit the kids anymore were donated. Easy. A few things that fit the kids, but I knew they would never wear, it just wasn't their style of boots, shoes etc. I put in the donation bin. A little harder to get rid of perfectly cute items I wished they would wear.
Then the hats and mitts. If I were to be ruthless about decluttering and minimizing, I would have decided on a number of needed hats and mitts. Maybe 5 max of each would be a good number? They have their favorites, the ones that spark joy, how many extras do we really need?
That's the area where I slacked in making any decision. I just sorted all the hats and mitts into a small drawer for each kid and they all fit, but a little tight.
My next step should be to ask each kid to tell me if there are any hat and mitts they don't like.
Each time I do this though I get more honest with myself as to what things we haven't used and probably never will.
Then, once I see the space created, and notice that it is so much easier to keep the area tidy, I'm motivated to really scrutinize each item in my house, as to not only its value in our lives but what might we be missing out on by keeping.
My six year old noticed a pair of gloves she adores, while we were tidying up, she shrieked when she found them. I've been looking for these, she said.
By having so many other hats and mitts, the ones she loved got buried.
Lessons Learned:
If an area quickly gets messy, it's time to declutter.
Having too many things makes us miss out on the things that truly bring us joy.
Asking kids what they don't like helps make decluttering their stuff easier.
Before and after photos are so cool.
I still have lots of room for growing and learning through decluttering and minimizing my possessions.