It can be difficult to keep up with all of the reviews you get online, especially if you run a busy business. But one thing is for certain—you should always reply to your Google reviews.
Responding to customer feedback sends a powerful message that you care about your customers and want to maintain a strong relationship with them. If you are anything like me, you know this already, right? If you are not convinced that you should always reply to each review, jump down below to the benefits section below.
So we have a review, now we need to reply, what's the problem?
The problem is, coming up with what to say other than, "Thank you", or "I'm sorry, please contact us so we can make this better". Automated responses come off as insincere and impersonal. If we reply to each review with the same message, it will lose its value. But with everything there is to do in a day, it's easy to feel overwhelmed trying to come up with the right words.
How to respond to google review examples:
A Positive Review:
1.Thank you so much for taking the time to write this! We are really glad to hear that you had such a great experience with us and we look forward to seeing you in the future.
Affiliate Disclosure: Some of the links below are affiliate links, meaning, at no additional cost to you, I will earn a commission if you click through and make a purchase.
2.We really appreciate your feedback and we always strive to provide the best customer service possible. Thank you again for taking the time to share your thoughts!
3.We are so grateful for such kind words. We'll be sure to pass along your compliments to our team!
A Negative Review:
1.We apologize for the bad experience you had with us. We take customer feedback seriously and are constantly looking for ways to improve our service. Please reach out to our customer service team so we can make this better for you.
2.We understand your frustration and would like to do everything in our power to make it right. Please contact us and let us know how we can help. We look forward to hearing from you soon!
3.We apologize if your experience with us did not meet your expectations. We take all customer feedback seriously and would like the opportunity to make this right. Please contact us directly so we can discuss how to resolve your issue.
The problem with these examples are again, they are just too generic, they are to templated.
How to Respond To A Fake Google Review:
If you receive a fake Google review, you can flag it for removal. To do this, go to the review and click on the three vertical dots in the top right corner of the screen. From there, select "Report Review" and fill out the details about why you believe that it is a fake review. Once you have done this, Google will review the review and take appropriate action. In the meantime, you can also reply to the fake review politely letting people know that it is not a valid feedback about your business. After all, you want potential customers to be able to make an informed decision based on accurate reviews. While it may be tempting to get angry when you receive a fake review, it's best to take the high road and respond professionally. That way you can protect your business's reputation without alienating potential customers.
How To Respond To An Unfair Google Review:
If a customer leaves an unfair review, it is important to remember that it's not personal—they are just expressing their opinion. That said, you still want to do your best to address the issue and rectify any wrongs they may have encountered in their experience with your business.
The best way to respond to an unfair Google review is to apologize for any inconvenience and offer a solution. It's important to be professional, courteous, and understanding in your response. Let them know you value their opinion and are sorry they didn't have the experience they had hoped for.
Offer to speak with them directly so you can better understand their concerns and resolve any issues. Above all, listen to what they have to say and strive to learn from the feedback they provide—it can help you identify areas of improvement and make your business better in the long run.
Overall, a thoughtful reply to a Google review shows customers that you care about their opinion and are willing to go the extra mile to make things right. It can also help to improve customer loyalty and satisfaction, encouraging customers to come back for more in the future.
No matter what type of review you receive, it is important to stay professional, courteous and respectful when responding to customers. By doing so, you will be demonstrating that you value your customers and will ensure that they remain loyal to your business.
How to Respond to A Google Review without Comments
If a customer has left you a review without any comments, it's important to thank them for their feedback. This shows that you value their opinion and appreciate their support. You can also encourage them to leave more details in the future, so that other customers can better understand what they experienced with your business. Additionally, if they have mentioned a particular product or service they liked, you can thank them for the kind words and ask if there is anything else that you can do to make their experience better. This will help create a more personal connection with your customers, which may encourage them to leave more detailed feedback in the future. By thanking your customer for their review, even without any comments, you will be demonstrating that you value their opinion and want to do whatever it takes to ensure they have a positive experience with your business.
Using AI To Help You Respond To Google Reviews ChatGPT vs Jasper
Using Chat-GPT to Reply To Google Reviews:
ChatGPT at the time of writing is currently free. Just create an account, and start asking your questions. The trick to getting a good answer is by really knowing what you want. It's kind of like having a genie that grants unlimited answers, but luckily you can tell if you got the question or command wrong by how happy you are with the answer.
I'll show you the difference responses between two different questions/commands put into ChatGPT.
Command = How to respond to a 5 star google review that says "good communication"
Response = Thank you for your positive feedback on our communication! We are glad to hear that you had a pleasant experience with us. Your satisfaction is important to us, and we will continue to work hard to provide excellent service in the future. Thank you for choosing us.
I don't know about you, but that sounds too fake to me. I would not feel comfortable posting that as a response to a customer who just said, "Good Communication". It's way over the top.
Let's try being more specific with ChatGPT, now that I realize I'm looking for a more specific response.
Command = Reply in a short and witty, professional manner, to a 5 star Google review from Ben, who said, "great communication".
Response = We're thrilled to hear that communication was top-notch, Ben! Thank you for taking the time to leave a 5-star review. We appreciate your feedback!
That is more my style. Once you find a command that works for you, be sure to save it to use it in the future.
Here is the command you can use each time, just copy and paste into ChatGPT. Be sure to change anything in-between the [ ], with your review information.
Reply in a short and witty, professional manner, to a [number] star Google review from [name], who said, "[review]".
Using Jasper.ai To Respond To Google Reviews:
I love ChatGPT and I love Jasper. They both have their strengths and their weaknesses.
But I don't see myself closing my Jasper account any time soon.
Jasper has designed a template for Google reviews to make the process easier, so you don't have to worry about what data is necessary. To get started, simply log in to your Jasper account (or sign up for a free trial if you don't have one yet). Then click on the template, Review Responder. It's that easy!
Now, you enter in:
the full customer review,
your company name
the reviewers name
the star rating from the reviewer
and the tone of voice
I filled in the tone of vice here as visceral emotional language, but you can literally put in what ever tone of voice you would like. Joe Rogan. Shonda Rhimes. Short and witty. Caring and professional.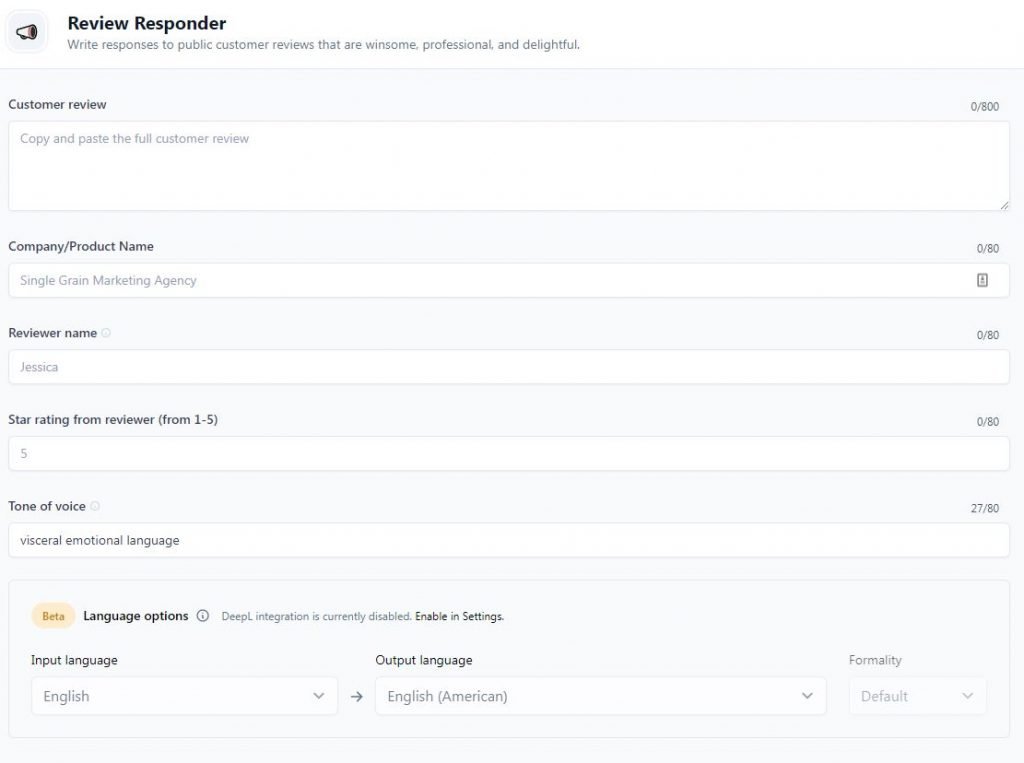 Here is an example of the template filled out. You can't see it on this image but I have it set to generate 3 examples. You can set the output to be more or less. Let's see what kind of results Jasper creates!

Now, lets see how that changes if we enter in a bad review, again asking Jasper to generate 3 responses.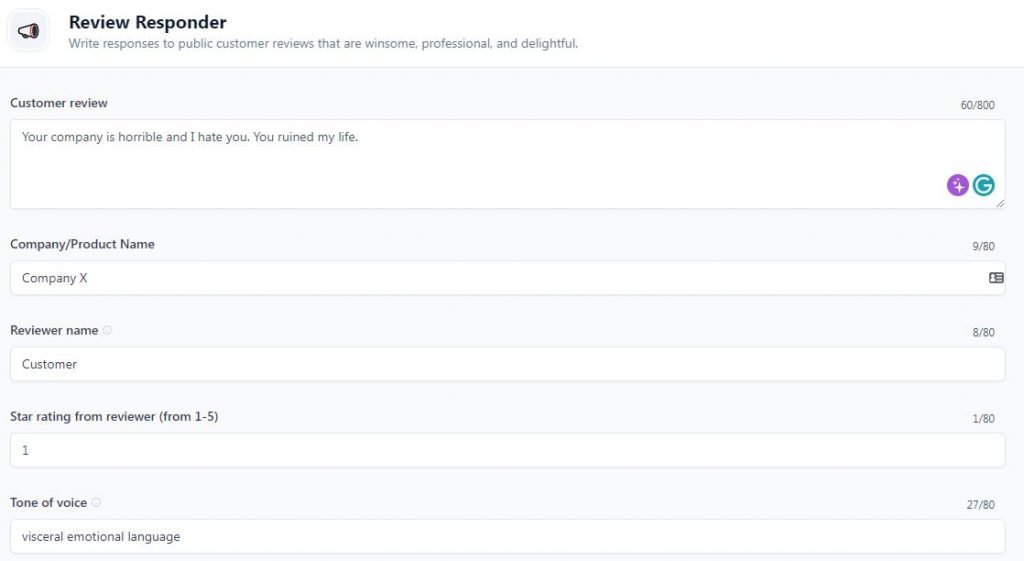 And what happens if we just change the review slightly, to include that the customer is not asking for a refund. See how that changes Jaspers response.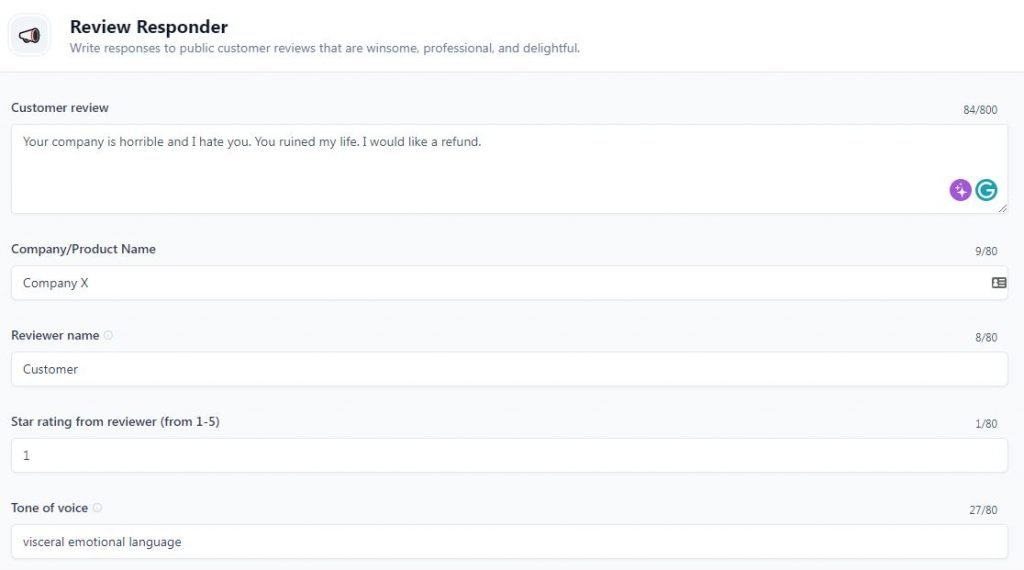 Take the stress out of managing Google reviews! With Jasper, you can get quick access to a review template and start using it right away.
Benefits of Responding To Each Google Review
Building Credibility & Trust
In today's digital age, people look at customer reviews more than ever before when deciding which products or services they should purchase. By responding to reviews, you can show potential customers that you are trustworthy and credible because it demonstrates that you take customer service seriously. If a customer leaves negative feedback, it also shows that you are willing to work through issues together and strive for an amicable solution.
Boosting Your Online Visibility
Replying to reviews also helps boost your visibility in search engine rankings because it shows that your business is active and engaged with customers online. This will help drive more organic traffic and leads, as well as improve the overall user experience on your website.
Improving Customer Retention & Loyalty
By responding quickly and effectively to positive comments, customers will feel their opinions are valued and appreciated. This can help build customer loyalty over time as they come back for repeat purchases or referrals from friends or family members who had positive experiences with your business. On the flip side, responding promptly and professionally to negative comments also shows that you take customer concerns seriously and want customers to have the best possible experience with your business every time they interact with it.
Replying to Google reviews is important for both businesses and customers alike. Not only does it show potential customers that you care about providing excellent service, but it also helps boost visibility in search engine rankings so more people will find out about your business online.
Moreover, replying quickly and professionally gives existing customers an incentive to return for repeat visits or refer friends or family members who may need similar services or products as yours offer! In short, taking the time to respond thoughtfully can go a long way towards boosting customer loyalty in the long run!