When you think of well known bloggers and their traffic, do you assume that they get all their traffic on the topics they are known for?
Affiliate Disclosure: Some of the links below are affiliate links, meaning, at no additional cost to you, I will earn a commission if you click through and make a purchase.
Do you assume that when they talk about all the traffic they get to their site, that the traffic is targeted to what appears to be their niche?
If they are talking about business marketing, and they talk about how much traffic they get daily, do you assume that traffic is coming from people searching for business marketing advice or ideas?
If a site appears to focus on teaching about, "getting results with Pinterest", do you assume that their organic traffic is coming from searches on getting results with Pinterest?
This assumption can often makes us feel like your not as successful as these authority sites. You feel bad. You feel confused.
You follow their advice, you write great content on your niche and no one comes. You don't get the traffic that they are getting and you don't understand what your doing wrong.
It's totally fine to be not as successful as someone else, we are all on our own journey. The problem with assumptions that make you feel bad is that it can make you give up and your assumptions could be all wrong.
In fact many authority sites get most of their organic traffic for things that have nothing to do with their authority site topic.
Wait….What?!!
It's true! I'll show you.
When I first came across AnastiasiaBlogger.com. The website focused her knowledge of gaining Pinterest traffic.
Now, if you go to her site, she's broadened out to teaching and coaching on how to start a blog and everything that includes.
Guess where most of her organic traffic comes from.
Did you guess?
iPhone wallpaper.
Her top 5 organic keywords are for iPhone wallpaper. 22% of her traffic is for Christmas iPhone wallpaper and 19% for cute wallpaper.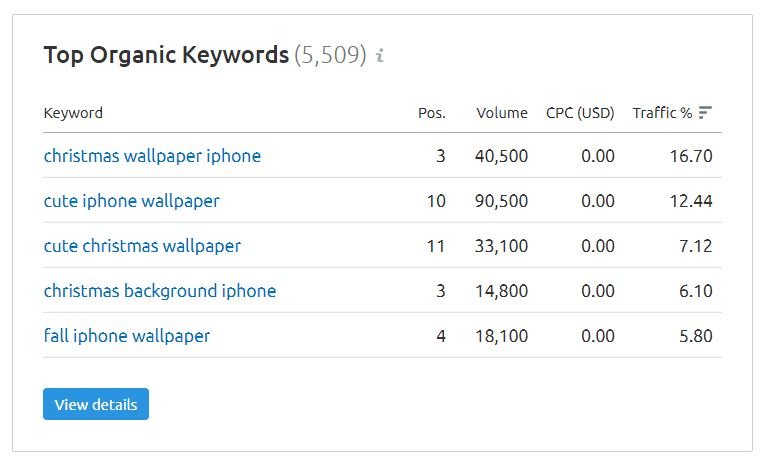 If you go into your favorite keyword research tool, I use SEMRush, you should be able to see all the other iPhone wallpaper terms she gets traffic for.
It's not just her top 5 keywords, it's more like her top 20 with a few keto and weight watchers keywords in there as well.
This is a great thing!
It means that you can try lots of things on your blog.
It means you can go after some low hanging fruit on your way to building an authority site.
It means others are using these little hacks for increasing traffic and now that you know, you can do it too.
It means that you are not failing if your main content isn't doing as well as you want.
It means that you don't have to give up on your ideal content.
It just might take some low hanging keywords to propel you into being an authority site.
It means that if you are looking to increase your traffic to apply to other ad networks like Mediavine, you can add some of these easy keywords too, to your site.
Here's some more.
Brandon Gaille's first link on his small business and marketing advice site is a post that is titled, "From Disabled & $500k in Debt to a Pro Blogger with 5 Million Monthly Visitors".
5 million monthly visitors is absolutely amazing.
It might seem like a number that high is out of your reach, but if you see where many of those visitors come from…
Brandon is a genius at finding the low hanging keyword fruit.
That means large searches, low competition and many of the articles you can see are not that labor intensive.
60 Funny Unanswerable Questions
The average male and female shoe size! Really! I guess that falls under his "Statistics" category and it gets 1,000 searches a month.
And he ranks #1 for it.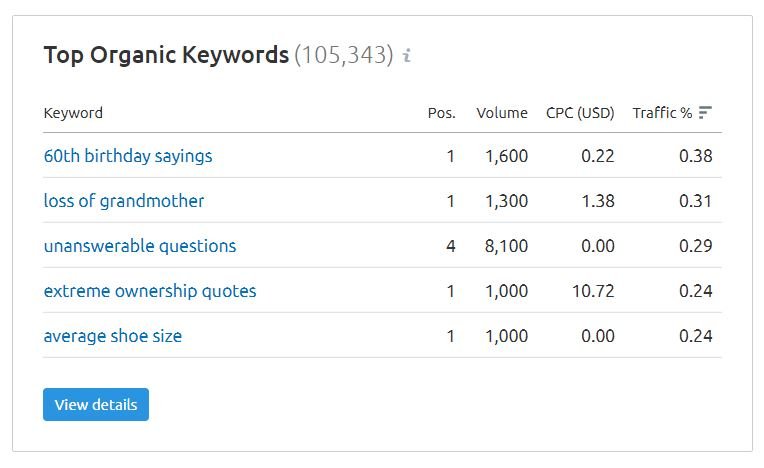 Lifehack.io gets almost 1 million visitors a month in organic traffic.
Their top five posts have nothing to do with life hacks.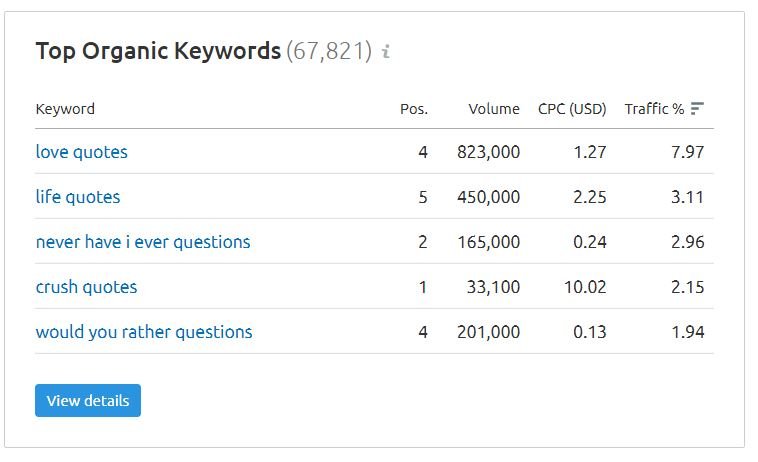 Quotes, "never have I ever questions" and "would you rather questions"?!
Ok, and the last one for today:
The Brand Boy's top 5 organic keywords might not be so shocking, but it just shows that not every piece of content you create needs to be noble prize winning piece of writing.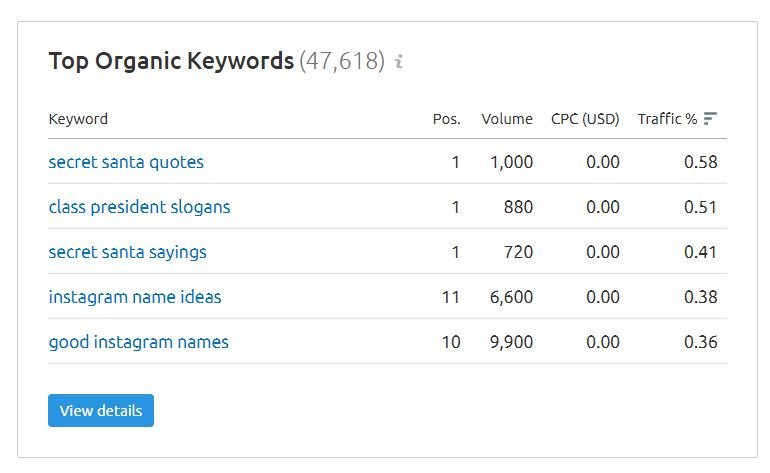 1000 people a month are searching for "secret santa quotes" and the Brand Boy probably curated a bunch of quotes to serve that audience.
That's the low hanging fruit.
This is why I love SEMRush. The main page of a website doesn't always show the true story of how they built their traffic.
If you go to AnastiasiaBlogger.com there is no link to her wallpaper content. The only way to find it is to search for it or to have found a link from somewhere else like Pinterest.
Many of Brandon's highest traffic pages are pages he made when he was first starting out.
You have to search to find them.
These types of pages jump started their organic traffic giving them authority and momentum to keep going.
If you're getting discouraged, start doing keyword research on your competitors and see what low hanging fruit you can go after.
Join our Facebook group, Online Tweaking, for more keyword ideas to help you in your business.
Remember to add a bookmark to your Pinterest board