Naming a cleaning company can be difficult. You want something catchy, memorable, and above all, professional. It is important to find the right name that reflects your brand and services you provide. A good name will help you stand out from the competition and attract potential customers. Here are some ideas to get you started on the path to naming your cleaning company.
How To Name A Cleaning Company
Go with Alliteration
Alliteration is the repetition of a certain sound at the beginning of each word in a phrase or sentence. This technique can be used when choosing a name for your cleaning business because it will make it easy for customers to remember and recognize your business when they see it written down or hear about it. Examples include "Bubbly Blast Cleaners", "Squeaky Clean Solutions", and "Whisked Away Cleaning".
Affiliate Disclosure: Some of the links below are affiliate links, meaning, at no additional cost to you, I will earn a commission if you click through and make a purchase.
Play on Words
Using puns or plays on words can be fun, but also creative when coming up with names for your cleaning company. Think of phrases that involve cleanliness or common tasks associated with cleaning companies such as dusting, mopping, vacuuming, etc., then come up with clever variations of those phrases that still reflect what your business does. Examples could include "So Fresh & So Clean", "Dust Bunnies Be Gone!", and "Mop-A-Lot Services".
Keep it Simple
Sometimes simple is best! Don't overthink it – if there's already an existing phrase that sums up what your services are all about then there's no need to complicate things by coming up with something overly complex or long winded. Simple titles like "Spotless Services" and "The Clean Team" are straightforward yet still effective in conveying what kind of business you have without having to guess what it may be about from its title alone.
Catchy Cleaning Company Names:
Sparkle and Shine Cleaners
Freshly Squeezed Solutions
Tidy Time Services
Dust Bunnies Be Gone!
Miracle Mop-Ups
Wiped Out Washings
So Fresh & So Clean
Whisked Away Cleaning
Mop-A-Lot Services
The Clean Team
Spotless Services
Supersonic Sanitation
Superb Sparkle Solutions
Bubbly Blast Cleaners
Squeaky Clean Solutions
The Dust-Busters
Shine Bright Services
Speed Scrubbers
Gleaming Goodness
A Cut Above Cleaning Services
Clean Sweepers
Absolutely Spotless
The Purifiers
Refresh & Renewal Cleaning Solutions
Deep Diggers Cleaners
Neat N' Tidy Services
Pure & Perfect Cleaning Co.
Sanitized Solutions
Blue Sky Cleaners
Crystal Clear Solutions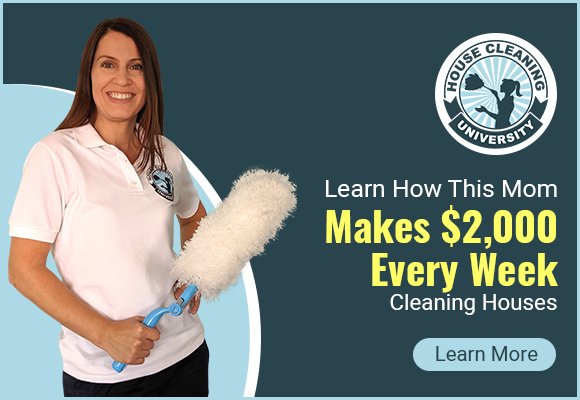 Rhyming Cleaning Company Names
Swiffer Sweeperz
Hover Mowers
Broom Bloomers
Clean Kingz
Scrub Up Fabulous
Dust Busters Plus
Suds 'n Duds Cleaners
Dust & Rust Lusters
Sparkle and Shine Shifters
Dust Bunnies Galore!
Spotless Spritzers
Sweepy Creeps Cleaning Co.
Sani-Suds Services
Mop 'n' Glow
Spot Removers
Dewy Dusters
Cleaning Crew Supreme
Drop the Mop Cleaners
Jiffy Whisk Hirers
Cleaning Company Names With Puns
Take a Swiffer on it
Scrub-A-Dub Dubs Cleaners
Suck It Up Cleaners
Mop Stars Cleaning Co.
Soap Suds Solutions
Sparkle & Shine: A Polishing Service
The Dust Bun-nies
Dusty Deals Cleaners
Mop It Up Cleaners
Vacuum Vipers Services
Supersonic Suction Solutions
Sanitize 'R' Us
Dazzle & Sparkle Services
Fresh Air Solutions
Bright & Shiney Cleaners
Fabulous Fizz Cleaning Co.
Dust Bunnies Begone!
Whisk Away Cleaners
The Deep Cleansers
Spotless Solutions Inc.
Modern Cleaning Company Names:
Cleanstart Solutions
Sani-Clean Services
Neat N' Tidy Professionals
Dust Bunnies Begone! Eco-Friendly Cleaning Co.
Shine 'n' Spark Cleaners
Fresh Aire Solutions
Refresh & Renew Cleaners
Buttoned Up Cleaning Co.
All-the-Dust Busters
Whisk it Away Services
Dust Free Zone Mops
Spotless Spree Cleaners
Breezy Clean Solutions
Clean Revolution Services
Spotless Solutions & Beyond
Fab-u-Clean Cleaning Co.
Eco-Cleaning Squad
Supreme Suction Services
Shimmer Shine Cleaners
Perfectly Polished Professionals
Unique Cleaning Company Names
Sparkle Sparklers
Sparkle and Shine Mop Up
Glisten & Gleam Cleaning Co.
Fresh Start Solutions
The Shelf Helpers
Absolutely Spotless Company
Speed Go-Clean Services
Squeegee Squad Cleaners
Clean Queenz
Miracle Mopsters
Super Suds Solutions
Shine to Perfection
Clean Crafters
Dust Bunnies Bye-Bye!
Spotless Spectacular Solutions
Cherry Pickers Cleaners
Dust Busters Xtreme
Clean Hub Solutions
Pure & Simple Solutions
Neat Freak Cleaners
Shine Bright Services Incorporated
Fabulous Finishers Cleaning Co.
Spotless Stop-N-Go Solutions
Funny Cleaning Company Names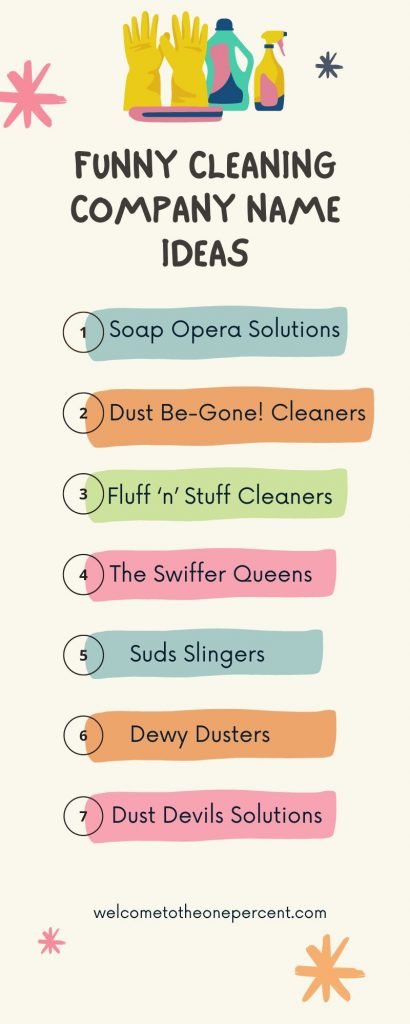 Soap Opera Solutions
Dust Be-Gone! Cleaners
Fluff 'n' Stuff Cleaners
Mop Stars Cleaning Co.
Mr and Mrs Sheen Services
The Dirt Stoppers
Two Mops & A Bucket Cleaners
Dust 'n' Dishes Cleaners
The Swiffer Queens
Mop Jockeys
Spotless Solutions Incorporated
Scrubalongs Cleaning Co.
Shine Brigade Cleaners
Fabulous Fizz Cleaning Co.
Sparkle & Shine: A Polishing Service
The Dust Bunnies R Us
The Suds Slingers
Scrub-A-Dub Daddys Cleaners
Spotless Spree Cleaners
Sani-Suds Superstars Cleaning Co.
The Clean Cuts Cleaners
Dust Devils Solutions
Whisk It Away Services
House Cleaning Company Names
Dust Bunnies Be Gone!
Clean My Space Solutions
Home Sweet Home Care Services
Your Maid Service
Ahoy Cleaners
Cleanology Solutions
Dusty Deals Cleaners
Shine 'n' Spark Cleaners
Neat N' Tidy Professionals
Fresh Start Solutions
Vacuum Vipers Services
Sanitize 'R' Us
Supersonic Suction Solutions
Dazzle & Sparkle Services
Mop It Up
Rude Cleaning Company Names
Dirt Disposers
Dust Busters Xtreme
The Grime Fighters
Mess Masters Cleaning Co.
Scrub 'Em Out Solutions
Spotless Spree Cleaners
Sani-Sweep Solutions
From Gross to Gorgeous Cleaners
The Dirt Stoppers
Muck & Grime Services
From Filth to Fabulous Cleaning Co.
Scrub it All Away Solutions
Germ Busters Cleaners
Crap Collectors Cleaners
Yucky Yuckers Cleaning Co.
The Disinfectors
Grime Getters Solutions
Rubble Removal Services
Dirt Blasters Cleaners
Choosing a name for your cleaning company doesn't have to be hard work; use alliteration, play on words, or keep it simple! With these tips you should have no trouble coming up with a unique name for your business that reflects its values and services provided while also standing out from the competition. Good luck on finding the perfect name for your new venture.
Happy Cleaning!