Disclosure: Some of the links below are affiliate links, meaning, at no additional cost to you, I will earn a commission if you click through and make a purchase. As an Amazon Associate I also earn from qualifying purchases.
When you just need something that tastes like a treat, chickpea chocolate chip cookie dough energy bites are perfect.
Because they are a treat, but they are also healthy.
And satiating, and fairly low cal for an energy bite.
This is the first recipe a made after deciding to go vegan to heal my gut.
I love how easy these are to throw together.
The kids love them. They think of them as a treat too.
They are always asking if they can have just one more.
You can have as many as you want. 🙂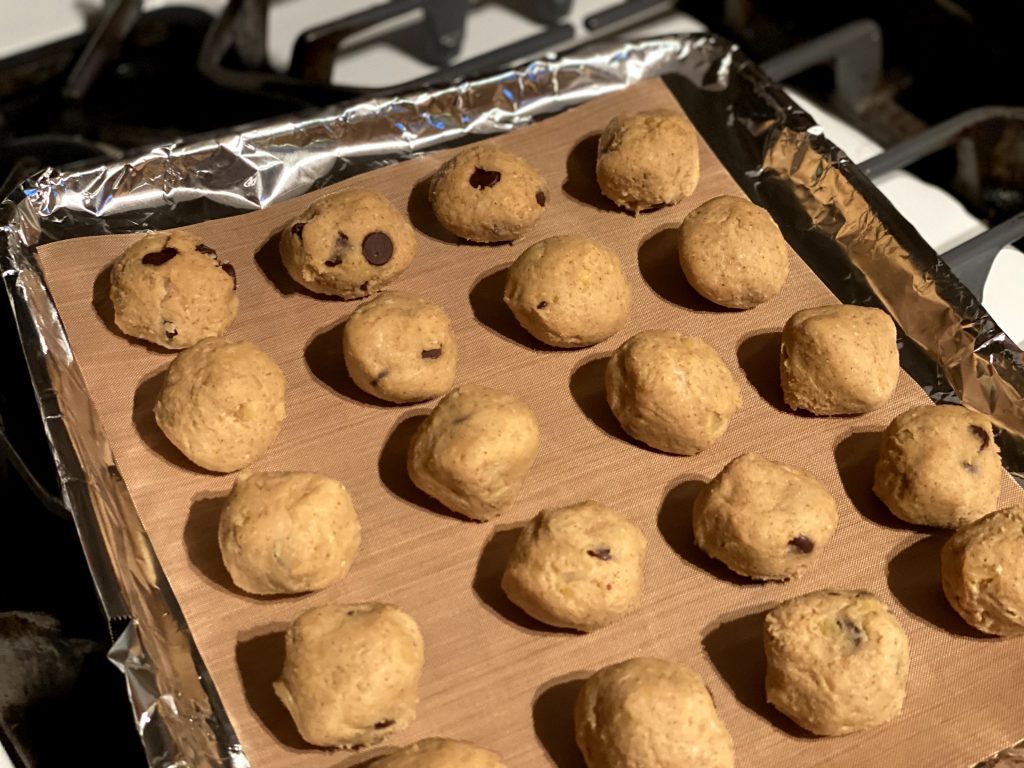 I wish I had of taken more photos of the process but it's so simple I know you'll get it.
You will need a food processor or blender for this recipe. A food processor works best.
If you only want to make just enough oat flour for this recipe you might want to get a coffee grind if you don't already have one.
It really is a great investment. I use my coffee grinder almost every day to grind flaxseeds and chia seeds, as well as oat flour for recipes such as this one.
I don't like to grind a bunch in a blender or food process ahead of time because I don't want them to go bad. I could store the flour in the freezer but this just works best for me.
You can totally eat these before storing them in the fridge.
And you don't always have to add the chocolate chips, they still taste great.
I hope you enjoy these as much as we do.
If you want more amazing, healthy recipes like this one, I highly recommend you get the book, Fiber Fueled.
It has truly changed my health and my life.
Chickpea Chocolate Chip Cookie Dough Bites
Yield:
Makes 16 to 20 Bites
Ingredients
15 ounces of chickpeas or 1 can, drained and rinsed
1/2 cup of rolled oats or instant oats
1/4 cup of nut butter
2-3 tablespoons of maple syrup
1 teaspoon pure vanilla extract
1/4 teaspoon salt
1/4 teaspoon ground cinnamon (ceylon)
1/3 cup dairy-free chocolate chips
Instructions
Ground rolled oats into flour, using a blender, food process or coffee grinder.
Add chickpeas, oat flour, nut butter, maple syrup, vanilla extract, salt, and cinnamon into your food processor.
Blend until a dough forms. Taste and add more maple syrup if needed.
Fold in the chocolate chips by pulsing just until the chocolate is combined.
Us a tablespoon for measuring the dough and roll into balls.
Place on baking sheet and store in the fridge to harden for at least 15 minutes.
Move to an airtight container and keep in the fridge for up to 1 week if they last that long.